I've had the good fortune of working with some ecommerce clients who get hundreds of Abandoned Carts per day, which provides a lot of split-testing and segmentation opportunities for an Abandoned Cart email campaign in HubSpot.
Although your store might not have this many abandoned carts to experiment with in your marketing, I want to share some segmentation strategies I've tested over the years that may provide quick-wins for your business.
Abandoned Cart is a Lead Conversion/Decision campaign that gets some of the highest site traffic (roughly 70% of started orders get abandoned), so it makes sense that merchants want to dial in that part of their online experience for shoppers.
In this article I'll cover these 5 major Abandoned Cart segmentation types I've worked with over the years:
Launch First, Improve Later
One of the challenges and beauties of digital marketing is the nearly unlimited options available for trying to grow sales. You might find lead acquisition or customer retention strategy that works reliably for years, or when big changes hit (like the Covid pandemic, for example) you'll need to rapidly experiment and adjust to changing market conditions.
Because you're able to collect data at scale with each order and site interaction, ecommerce allows owners to constantly run marketing experiments. I think it's the scalable aspect of ecommerce that makes digital marketing so much fun for this industry.
Rather than spending months on a targeted, multi-channel B2B campaign that one can run to a few hundred customers on their list, ecommerce allows you to take a list of several thousand past customers and run the campaign in small batches of, say, 20% so that you can iterate and improve the results across 5 runs of the content. (This is commonly my recommendation for launching your first large-scale Customer Winback/Reengagement strategy)
I say all of this as a reminder that ecommerce digital marketing is the perfect industry to practice a "launch first, improve later" mindset.
One of the most common things I'll coach clients OUT of doing is building a multi-segment, 10+ email, multi-channel campaign that will take four months to launch.
I'll ask them, "Does this campaign currently have zero live emails or customer-facing content in place?" When the answer is yes - which it often is for Abandoned Cart, New Customer Welcome, or Customer Winback campaigns - then I remind them that the majority of small ecommerce brands are ALSO likely doing nothing with these campaigns.
"Doing ANYTHING" is actually the first industry baseline that ecommerce brands need to overcome, and the weekly flow of new customers and orders assures that you can GET to the "multi-segment, 10+ email, multi-channel" version of the campaign over time.
To start, just launch one segment. Maybe 2 emails. No social or retargeting for this week's version of the campaign.
I was the first employee of Unific in 2014 and I can remember how impactful it was for us to read "The Lean Startup" by Eric Ries (direct Amazon link). It was really one of my first steps in embracing the kind of mindsets that are required for nurturing and adjusting to rapid growth.
Embrace a habit of constantly running small experiments that risk small, controlled failures you can learn from. Rather than putting a lot of behind the scenes time into a large project, ecommerce digital marketing affords you the luxury of publicly iterating as you go.
Basic HubSpot Abandoned Cart Steps
I would commit no more than a week to launching the first version of an abandoned cart campaign.
We sell a single-segment, two-email abandoned cart template for $250 to get you started that you can probably launch within an hour of copy and email customization (and includes 3 other lifecycle campaigns, as well!).
Although my previous article lists a two-segment abandoned cart, the basic HubSpot setup elements discussed there remain same no matter how many segments:
Keep your Abandoned Workflow out of the HubSpot Ecommerce menu and keep it in the regular workflow area (ideally as a Contact Workflow not a Deal Workflow)
Create a 2-3 Abandoned emails using established content best practices, tested subject line principles, and a cart module using our properties (and make sure each email is associated with a HubSpot Campaign, ideally a different campaign per segment)
Make sure the workflow is stopped (using a Contact Workflow Goal) when the shopper makes ANY purchase rather than making a purchase of that specific abandoned cart (this is easier to do with Contact Workflows using Unific because we put all last order data on the contact level that you can build into an order detection workflow)
Once you've got a basic Abandoned Cart campaign launched like this, then I'd worry about these types of additional segments below.
Segment A: Previous Lead Discount Signups
Ecommerce sites commonly have "Get 15% Off" popups or footer signup forms.
Simply put, if you do something like this and the shopper STILL hasn't used that code by the time they abandon a cart, then I would cut straight to reminding them of that offer in your first Abandoned Cart email.
This gets into the concept of "coupon continuity", which this JustUno article effectively explains at length. If someone signs up for a discount promo, they shouldn't have to pause their shopping experience to retrieve it, nor should they have to leave their current abandoned email to find the discount code they signed up for from a different email.
Any steps that require a shopper to break the flow of what they're currently doing or adds steps to buying from you increases the risk that they will not complete their purchase.
At ecommerce scale, a loss in 0.1% of conversions can quickly add up to significant revenue.
Even though shoppers signing up to get a discount code on your website seems like a guaranteed way to close a sale, I've commonly seen that conversion rates on coupon webforms to be as low as 20-40%.
From personal experience, I know that I'll often sign up for those even during my Lead Consideration phase just so I've got the coupon ready in case I buy. But many times I and other shoppers never get beyond the consideration phase.
So if you're tracking those coupon form signups within HubSpot, build a segment with 2-3 emails that will remind of this unused coupon code in each email.
HubSpot "How-To"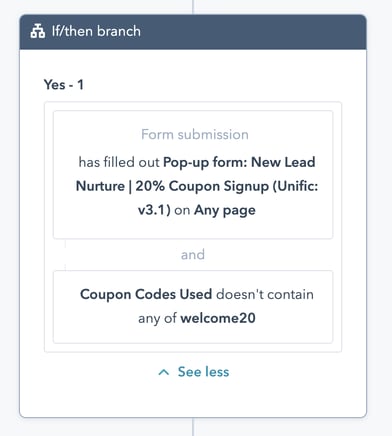 If you're using HubSpot webforms for the coupon signup along with Unific for syncing shopping cart orders and customers, then when creating an "If/then branch" in the workflow you'd set up one criteria looking for those who have filled out the webform AND use the Contact-level "Coupon Codes Used" doesn't contain the identifying string of your campaign coupon code.
We sync over 100 different properties to the contact record, and "Last Coupon Code Used" shows the discount codes used on their most recent order. But "Coupon Codes Used" shows the discount codes used across all of their entire order history. Use "Coupon Codes Used" just in case they used that promotion on some in-between order.
Unfortunately, "Coupon Codes Used" is not one of the available Contact properties within HubSpot's native Shopify integration, so you wouldn't be able to follow this method on that integration tool. You could use their Contact-level "Orders count is unknown" as a workaround, which will only apply the segment to shoppers who haven't bought at all yet, but that's about it. (If you want to do that same thing using Unific, then you'd use our Contact property criteria "Total Number of Orders is known")
I'm also using "welcome20" in this example, but that "Coupon Codes Used" customer property might contain discount codes from several of their past purchases and look something like this: "wemissyou-5KJ6D || welcome20-WQ2UT || newcustomer"
Therefore, use the "doesn't contain any of" criteria with "Coupon Codes Used" so you can search for a substring of a specific coupon code that was used that uniquely identifies this campaign from any other coupons they might have used.
If you're using Justuno for your coupon popups - which has many different targeting advantages over HubSpot's native popup tool that are especially valuable to Ecommerce behavior - then you can sync those signups to a HubSpot Static List.
You also have the advanced option in JustUno to sync some specific values into custom fields you create in HubSpot like Referring url, Previous Domain Referring URL, or the Coupon Code they receive in the post engagement (in case you're actually using one-time use coupons that you've bulk uploaded into JustUno that you can also reference in your HubSpot followup emails)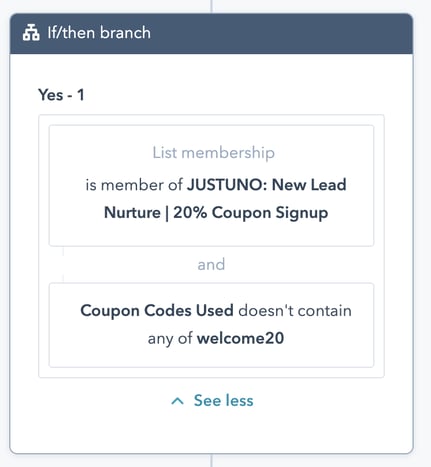 As far as the "If/then branch" in the workflow, the bottom "welcome20" using Unific's "Coupon Codes Used" would stay the same if using JustUno. But the top criteria would change to "List Membership is member of" and then whatever the name of your JustUno static list.
When I'm syncing in data from 3rd party integrations that use static lists to identify their source, I consider it best practice to put the name of the integration as a prefix of the list, like "JUSTUNO: " in this example.
Segment B: Existing Customers vs Leads
Knowing whether you're talking to an existing customer or a lead is a great way to focus your communication. This is the most popular segmentation I advise on, which I covered in the previous article.
The highlights of that article is that I would try (if possible) to do away with offering discount codes in the existing customer segment emails. I would thank them for coming back, telling them you saved their cart, and (if it's fitting) even have a final reminder email come from a sales rep for personal help. Ideally you want to offer value-adds to your customers as incentives without offering direct discounts, and JustUno has a great article for staying on-brand without offering discounts.
Certainly with existing customers, I would aim first for the strategy of letting the value of your products speak for themselves. They've already bought from you so they should know how valuable your product is, correct? Again, offering personal help on their purchase (if it fits your product economics and customer time zones) is a great way to understand their wants and build trust. Even bonus products (especially info, knowledge, or training products) are a great add on that's basically free to you and stays away from discounts.
Lastly, you can offer discounts while still preserving an ideal cart size through BOGO offers and minimum cart spends. If your median cart value is, say, $195 then you could have some sort of % discount that's only valid for carts that are at least $195 after discount.
These are two ways you can offer discounts without getting shoppers into the game of trying to focus on minimizing their total spend rather than the value you provide. We discuss many of these coupon strategies in our ecommerce coupon code guide.
For leads, I'd consider a discount a more acceptable strategy in order to close that first sale. Still try to work down your priority list of some value-add you can provide them before cutting to a discount, because it's better not to start the customer relationship on the foot of cutting price. If you have a training program or value add like a premium onboarding call or training that's proven to be really valuable to shoppers in making a buying decision, now is the time to use it.
But if you've worked through those value-adds and can't find anything that resonates for new buyers, offering non-customers a discount when they're 99% at the finish line by abandoning a cart is a sensible way to close the sale.
Again, I'd make the 1st email a soft reminder before giving two reminders of the coupon discount in email 2 and 3.
HubSpot "How-To"
If you're using Unific and our 100+ synced Contact properties to integrate with HubSpot, then use "Total Number of Orders is known" in the workflow's "If/then branch" to route the shopper.
The "Yes" track is where you'll put the existing customer email content and the "No" track is where you'll put the non-customer email content.
If you're using the HubSpot native integration, you'd set up the same type of "if/then branch" using the "Orders count" property on the Contact record. This is important to note because the HubSpot native integration creates Deal Workflows by default and you need to be referencing the Contact-level data to see if they have previous orders.
Segment C: Value of Abandoned Cart
This is also one of the more popular segmentation methods, which is to provide different followup content when a customer has abandoned a cart over a certain currency value.
It doesn't fit all businesses who don't have a sales team, but this is one of the best areas to experiment with getting your sales team to proactively reach out and contact the customer to help. If the shopper did input their phone number during checkout before the cart was abandoned, you could even have the sales rep reach out to them by phone, and then send email followup noting their attempted phone call if they weren't able to reach the shopper.
Something like "Just left a voicemail about the order you started" is a common subject line, along with body copy that introduces the rep, explains that they saw the shopper start the checkout but wanted to see if they can help or answer any questions.
Even if you don't have dedicated sales reps there's a high chance you have dedicated support reps and you can use the abandoned cart value as an experiment to see if this is worth investing into further. Set a higher abandoned cart value and if these conversations do facilitate closes for the business then you can set a lower abandoned cart value to route more calls to the rep (and certainly integrate what you learn from these calls into the help content for the abandoned cart emails at the lower dollar value).
The benefit is that, if you want, you can actually reasonably keep the email content the same for both segments but then just have the high-value segment trigger a task for the rep to email and/or call, separately. No one wants to be overloaded in their inbox, but getting 1-2 email contact points from a separate support rep address within the company allows a reasonable way to have more touch points without coming off as intrusive.
If you're concerned about spam or deliverability of the second address, you can certainly have the same higher-end content come from the same email address. It's up to you to experiment with what will work. Depending on your business economics, an abandoned cart conversion increase of even 3% through using reps can make a huge impact on your business growth.
HubSpot "How-To"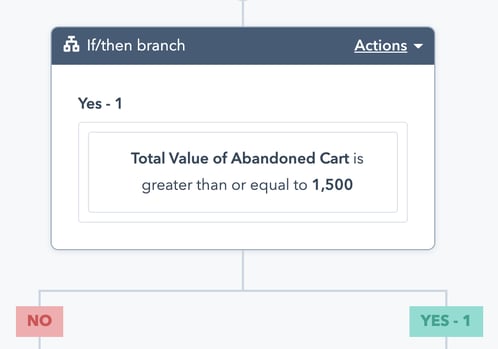 If you're using Unific one of our 100+ synced Contact properties is called "Total Value of Abandoned Cart". In the workflow's "If/then branch", set this to "greater than or equal to 1500" - or whatever threshold is meaningful to your business - to route the shopper.
The "Yes" track is where you'll put the high-end offer with likely personal sales rep followup via phone and email. The "No" track is where you'll put the other content that's more similar to what's discussed in the other sections.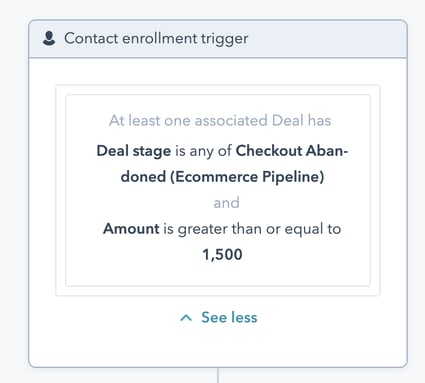 Unfortunately, "Total Value of Abandoned Cart" is not one of the available Contact properties within HubSpot's native Shopify integration, You could use Deal data on a Contact workflow and search for "Deal Stage is any of and search for "Checkout Abandoned". But I recommend doing this has to be done on the Trigger when using HubSpot native and not an "if/then branch".
When you're using using a Contact workflow but you're looking at Deal data, HubSpot is looking at ALL deals attached to that contact, which means that if you have an "if/then branch" looking for an associated abandoned deal with more than 1500 in value then they could be routed down that path for an abandoned deal that was 6 months ago. Using it as a Trigger assures that it's only considering newly abandoned deals.
Also, I want to note that the HubSpot native moves "Checkout Pending" deals to "Checkout Abandoned" after 24 hours, which means that those shoppers would also get that workflow. These are all reasons why Unific having all the relevant, needed Abandon data on the Contact record makes it much simpler to run Abandoned campaigns in HubSpot using Unific. But if you need to use the native then you might want to add in a "has never contained Checkout Pending" criteria to filter those cases out.
(Not having Abandon data on the contact record like Unific does also creates re-enrollment problems using Deal data when using Contact workflows, and as discussed in the previous article also creates unenrollment complications when using Deal workflows.)
Segment D: High-Value Previous Activity
There's a lot we could discuss in this section. A proper strategy on what constitutes "high-value" activity requires a great inbound understanding of your visitors' pre-purchase behavior segments, as well as a solid understanding of your customers' post-purchase behavior segments through a tool like our SegLogic or something similar. So I'll break this down into two different groups for lead vs existing customer activity that you would want to analyze to find valuable segments.
For pre-sale segmentation, you'll inevitably find some sort of site page, webform, or site referral source that's highly correlated with increased conversion rates. You can filter that sort of page or source referral data through your analytics tools. But the more that you understand your true buyer personas the easier it will be for you to look for the right things to monitor because you know what your customers are looking for and why they're looking for it.
I've worked with a client who offered financing on their purchases and it became clear to them that shoppers who applied for financing but didn't buy were one of their highest opportunities at the abandoned cart stage. They had a separate abandoned cart segment in place for abandoning shoppers who were approved for financing but hadn't bought yet, and another abandoned cart segment for shoppers who were denied financing.
Many retailers with larger product purchases have a financing application section of their site, yet they may not see the value in tying approval or denials to their abandoned cart followup. Your business might have a fun quiz or signup video series in place that's driving a lot of traffic without you realizing how much that's telling you about how to speak to your shoppers when they abandon a cart.
For existing customer segmentation, an easy place to look at is the lifetime order value or average order value of a customer's previous purchases when abandoning a cart. If you're on Shopify and use Customer Tags (which Unific syncs in a property simply called "Shopify Customer Tags") then there might be some great data here for determining your abandon email content.
Shopify apps commonly use Customer Tags to denote special "statuses" about their customers as it pertains to that app like being an active or past member of a subscription product or being part of a special wholesale or VIP pricing tier. Knowing this about your abandoning shoppers allows you to focus your emails with them.
I've also worked with businesses who sell a core product with a lot of the other items on their site being add-ons or accessories to that product, so if you can see from a customer's history that they've bought that product then you can acknowledge that fact in the abandonment email.
Finally, although this also pertains to non-customers you can correlate the purchase of certain products or certain lead sources to high customer lifetime value and give abandoned cart emails from a specific sales rep rather than a general email address if the shopper is correlated with one of those groups. Your data will let you know if you've got any lead sources or products that carry a CLV or repeat purchase rate that stand out particularly from the others.
HubSpot "How-To"
I discussed several tentative examples of segments one could consider "high-value", but that's going to depend on an analysis of lead and customer behavior within your own business.
For leads I'm going to focus on persona/form engagement. For customers I'm going to focus on LTV/AOV thresholds.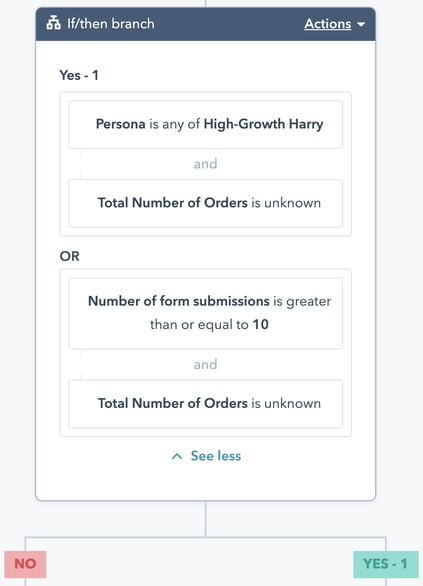 In this lead example, we're looking for someone who is a particular Persona (which would need to be set somewhere else through other Workflows by filling out certain form data that would identify them in this Persona).
As an "OR" criteria, we're looking for someone who's "Number of Form Submissions is greater than or equal to 10". HubSpot also has a default Contact property for the number of UNIQUE forms submitted, so it really depends on your understanding of your valuable shopper base to know what behaviors indicate value.
To be clear, you don't need the "Total Number of Orders is unknown" in the "if/then branch" if the followup isn't necessarily lead-only specific, but I wanted to demonstrate it here to make sure you saw how it worked. If you want the offer to only go to leads then the "AND Total Number of Orders is Unknown" needs to be a criteria under BOTH "OR" conditions, not just one.
(When your segmentation is complicated it can be difficult to think through all of the mutually exclusive combinations and boolean logic needed to make sure everything filters right, so I just wanted to include that as an example.)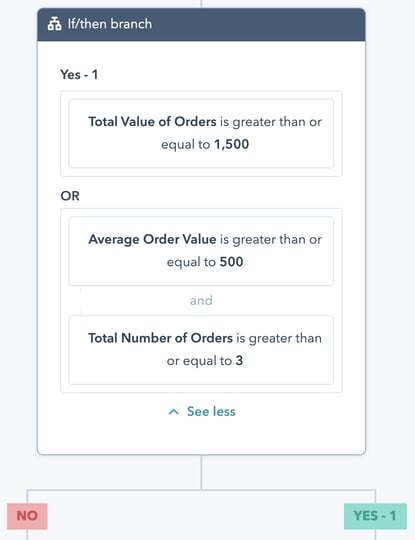 For an existing customer example focusing on LTV and AOV thresholds, we're looking at someone who's "Total Value of Orders" is greater than or equal to 1500 OR their "Average Order Value" is greater than or equal to 500 and they've placed more than 3 orders. (I'm placing in that 3 order minimum to make sure the average is split across more than two orders with one just being really large.)
Again, the exact numbers and targeting depends on an understanding of your shopping history using a manual analysis or a tool like our SegLogic behavioral segmentation, but these are some simple examples of the raw HubSpot criteria you could use to route high-value abandoning customers down a certain track.
And if you really understand your shopper behavior well, you can use HubSpot's default lead scoring functionality to add or decrease score value if these events take place, and then just set up "if/then branches" in workflows using the "HubSpot Score" contact property
Unfortunately, "Total Value of Orders" and "Average Order Value" are not one of the available Contact properties within HubSpot's native Shopify integration. But you could use "Orders count" for "Total Number of Orders". Looking at their contact properties list, you can use "Associated deals" and "Total revenue" as proxies for those first two, but this would also consider other Deals you may have in your non-Ecommerce Pipeline.
With both of these examples, the "Yes" track is where you'll put the high-end offer you put together. The "No" track is where you'll put the other content that's more similar to what's discussed in the other sections.
Segment E: Specific Abandoned Products
This is a more niche application, but it's worth mentioning here.
I've worked with several clients who have a small enough product catalogue where it is worth them writing custom product-specific abandoned cart emails, at least for their top 1-2 selling products.
In a later post I'll cover some principles for choosing segments, but in brief, when you're looking at what products or customer segments to write specialized content for, follow the 80/20 rule: look for the 20% of inputs that will lead to 80% of your outputs. Then ignore all the others for the time being so that group you chose can produce big results and you can keep looking for the NEXT segment of 20% that's producing 80% of results to focus on. And so on.
In the case of products, most clients I've worked with will have a handful of their products that are producing the majority of growth for their business. Depending on your economics, that could be the product that produces the highest order volume, the greatest revenue contribution margin, or has the strongest correlation with customer lifetime value (CLV). But since great content takes resources to create, just focus on writing custom abandoned cart emails for the 1-2 products like this that contribute most to your business growth and see how that goes.
This is a good opportunity to use that abandoned email to do a mini benefit breakdown of the product to win them over. Talk to real customers who've bought this product and ask them what their final reservations were and what finally won them over to buy. If split over 2 emails, you can easily cover 3-6 bullets of content in your abandoned cart email to win over the purchase on that product. Listing a review or testimonial in each email isn't out of the question, either.
If you look at your site analytics, you might even have some existing educational content about this product that's resonating well with shoppers in making the purchase decision. You could use a trimmed-down version of that article to put into a shorter Abandoned Cart email.
I would NOT recommend breaking the flow of going from the email to the checkout link by putting a link to an actual full benefits or education article. This increases the chance that the shopper will do something else and not complete their purchase. I would just focus on creating quality content for that product that can fit reasonably within that email about the product they abandoned.
(The only exception I'd recommend to putting links in that product email is if you could trigger a slide-in footer popup on that landing page using URL query parameters that pass the abandon URL and cart info to the page so that you could keep that "Finish Checkout" button on their screen at all times while they read that article. But this would be a much more advanced tactic that takes a lot of code know-how. For simplicity's sake, keep shoppers in the email educating them on the product and the link they should be able to click on is the one that takes them back to checkout.)
HubSpot "How-To"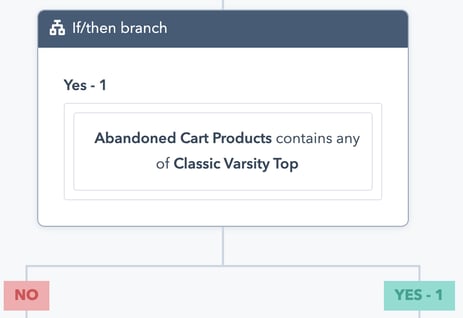 If you're using Unific to sync Abandoned Cart Data, "Abandoned Cart Products" is one of the 100+ fields we sync to the contact record for use. This is a string search so you will have to get it to match exactly. I would recommend navigating in HubSpot to Contacts -> Contacts -> More Filters and then adding "Abandoned Cart Products contains exactly" and then put in your product string to see what it returns and make sure it's matching correctly.
When the "if/then branch" criteria has "Abandoned Cart Products contains any of" then you can add in multiple strings that function as an "OR" criteria so that you can look for multiple qualifying product name options.
Unfortunately, "Abandoned Cart Products" is not one of the available Contact properties within HubSpot's native Shopify integration, and you would need to use the Deal Products lookup to find the product you're looking for, but this comes with the same Deal object limitations I mentioned in the previous section. I wouldn't so you wouldn't be able to follow this method on that integration tool. You could use their Contact-level "Orders count = unknown" as a workaround, which will only apply the segment to shoppers who haven't bought at all yet, but that's about it. (If you want to do that same thing using Unific, then you'd use our Contact property criteria "Total Number of Orders = known").
Strategy Summary (TL;DR)
Because 70% of carts get abandoned, you have so much opportunity to make incremental growth improvements to your business by optimizing your abandoned cart campaigns and segment targeting.
It's even possible to combine these segmentation types but I'd use 80/20 to determine valuable segments to start with first, as well as making sure you have a single-segment two-email abandoned cart campaign in place while you're building a larger strategy. And we sell a template package with exactly that, which shouldn't take more than 1-2 hours of work to customize the abandoned email copy and images in order to launch.
Once that basic abandoned campaign is live, here's the segmentation strategies I recommend:
Launch First, Improve Later: Ecommerce is the perfect environment for digital marketers to run experiments and continually improve
Specific Abandoned Cart Segmentation Strategies: Knowing which to experiment with depends on a good analysis of your inbound and post-sale shopper data (Our SegLogic tool can help with the latter)

Previous Lead Discount Signups: Close those prospects who signed up for a discount coupon but still haven't bought
Existing Customers vs Leads: Offer more consultative or other value-add help to existing customers while being more willing to give straight-discounts to leads
Value of Abandoned Cart: Use this as an opportunity for your sales or support team to intervene
High-Value Previous Activity: Use the context of specific website, webform, or LTV behavior to provide more personalized communication
Specific Abandoned Products: Use the email to answer specific buying objections and pain points about the specific product they've abandoned
Abandoned Cart is a key lifecycle stage in ecommerce marketing and creating focused content that really understands your shoppers' specific behaviors and concerns will put you ahead of the sophistication of most online retailers.
Hero Image Credit Copyright: Travis Wise "Hello My Name Is"
Copyright Attribution: Creative Commons 2.0
Get a Free Customer Journey Analysis!
Identify actionable differences in your ecommerce customer behavior to focus your marketing efforts. Our subscription eliminates many workflow and report building steps from this article.