E-Commerce is a game of all-or-nothing, unfortunately. If you make 99% of a sale that only leads to an abandoned cart, you gain exactly $0.00 in revenue. In a world of online shoppers leaving retailers with an abandoned cart
nearly 70% of the time
, each opportunity to convert an engaged consumer becomes more and more valuable.
This guide covers everything you'll need to know about abandoned cart shoppers. We'll look at what causes shoppers to abandon a cart, checkout optimization, and recovery campaigns using retargeted ads and email automation. While 21% of shoppers claim a cart was abandoned due to a long checkout process, fixing speed issues or creating an entire new checkout can be incredibly complicated or expensive. This guide focuses on simple, tactical tools and strategies that can be implemented to improve cart abandonment rate and revenue recovery.
Abandoned Cart: Why Consumers Abandon Shopping Carts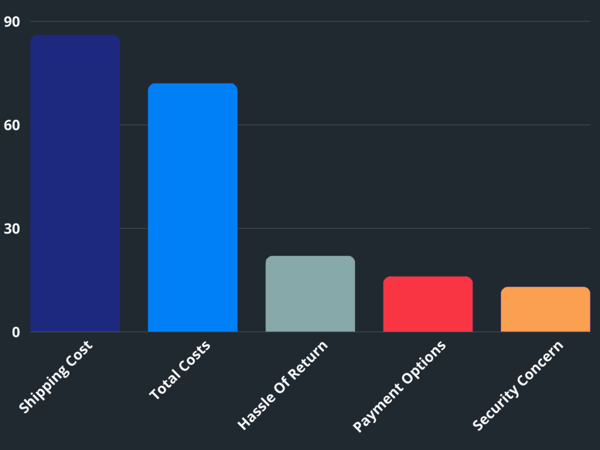 To fully understand and improve a store's abandoned cart rate, it's crucial to investigate what is causing customers to leave without completing the checkout process. Whether it's shipping costs, taxes, processing fees, or any other increase in price, the total cost drives more consumers to abandon an online shopping cart than anything else. Retailers can do a lot to help minimize cart abandonment; below we'll look at causes and tips for checkout optimization.
Abandoned Cart Causes - Cost of Shipping
There is, of course, one simple way to fix the issue of customers abandoning check out due to shipping costs: free shipping. In fact, 61% of shoppers are at least "somewhat likely" to cancel their entire purchase is free shipping isn't offered, according to a ComScore report. Free shipping can have a powerful impact on e-commerce stores, it can drastically increase conversion rates, but the associated costs directly affect net profits. However, Kissmetrics reports a 15-30% increase in net profit is achievable by maximizing profits on a free shipping offer. There are a few ways to maximize profits on a free shipping offer.
Free Shipping Thresholds:

The most simple way to maximize profits on a free shipping offer is to establish an order amount threshold, so customers have to spend a certain dollar amount to qualify for free shipping. It's highly recommended to test different thresholds and find the ideal order total for optimal conversions and profit.

Free shipping thresholds can vary based on many factors, like industry, cost consistency, or average margin per product. For example, retailers with brick-and-mortar stores may necessitate a higher threshold than online only retailers. The company with a brick-and-mortar operation, even if larger or more financially stable, will have higher overhead costs.

Another factor to consider when determining free shipping thresholds is the customer. Understand audience tendencies, how frequently they buy from your store and competition, average order value, and similar behavioral tendencies.

For example, a company that sells $15 shirts with an average order value of $30 (2 shirts) can increase conversions with a lower free shipping threshold (i.e., $40). Whereas a retailer with heavier (higher shipping costs), cheaper products ($10 per item), and higher average order value, let's say $75, may need to protect margins by setting a free shipping threshold on the upper end (i.e., $90).

Selective Free Shipping:

Another easy way to protect or maximize profits with free shipping is to limit the offer to items that consistently have lower shipping costs. Ideally, this offer includes a more popular selling item with a lower shipping cost. For example, an online clothing retailer that has three hats in its top 10 best selling items could benefit from offering free shipping on all hats.

Raising Prices For Free Shipping:

A third strategy to implement for maximizing profits with free shipping is to raise prices on each item associated with the offer. While raising prices can decrease conversions, it's important to focus on the net effect on profits. Increasing prices 5-10% can often have a positive effect on net margin, even with a slight drop in conversions.

If interested in implementing these strategies for your online store, check out Kissmetric's

How To Make "Free Shipping" Profitable

. Their post takes you through a detailed process for A/B testing these strategies for optimal increases in net profit.
Abandoned Cart Causes - Total Cost
It shouldn't be a surprise that 72% of US adults claim "cost of order became too expensive" as the primary reason for abandoning their shopping cart. Consumers do not like surprises when shopping, especially surprises that cost more money. While there are many variations, there are essentially two solutions to this problem outside of merely lowering the price of every item.
Transparent Pricing Information:
How do you combat surprise costs? Honest, transparent pricing information.
Some solutions to make pricing and costs more transparent include showing an estimated subtotal on product pages, shopping cart page, or the beginning of the checkout process.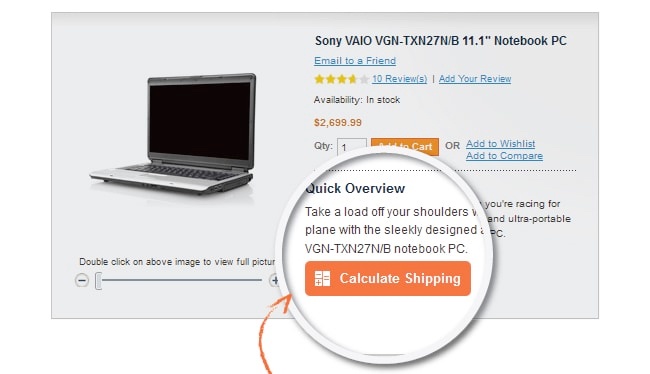 The example above shows a retailer using a shipping calculator on the product page. Integrations like the one above minimize the likelihood of shoppers reaching a checkout page and being surprised by an order total.
The most popular use of shipping and cost calculators are on shopping cart pages. The screenshots below are from one of the most familiar and recognizable examples, Amazon.
A shipping and tax estimator helps customers feel engaged and reduces surprises, two factors that will often lead reduced
cart abandonment rates
.
As previously mentioned, there are many tools for integrating a cost/shipping calculator with e-commerce stores. Here are a few popular apps for Shopify:
Discounts, Coupons, or Sales:
There are many different ways to offer coupon codes or discounts: popups on the first site visit, in exchange for email
opt-in, sent via newsletter, and plenty more. Discounts can be offered based on store or shopping cart criteria while coupon codes can be redeemed by the consumer when they see fit.
Examples of retailers setting store criteria for discounts include seasonal sales, holiday price cuts, and similar markdowns within a fixed amount of time. While sales are incredibly common, they are best used by retailers in moderation. It's important for retailers to give reason and purpose to any sales or promotions, this prevents customers associating your products with ideas like cheap or low-value.
When it comes to offering discounts, clear communication in the eyes of the shopper is pivotal. Clarifying the value of the coupon and how to redeem the offer need to be easy for the customer to understand. Additionally, offering
coupon codes that are dynamic and unique
to customers will increase conversions and reduce/eliminate the sharing of coupon codes.
For more information about discount and coupon marketing, take a look at BigCommerce's
Guide To Ecommerce Promotions 101
.
Abandoned Cart Causes - Returns, Payment, and Security
While shipping fees and total costs are the significant drivers of cart abandonment, 22% of US adults credit "hassle of return" as the primary reason for cart abandonment, 16% claim "lack of payment options" and 13% cite "security concerns." There are many solutions to these issues: for returns, apps like Returnly make it easier for customers to return or exchange items after ordering. Security and payment options continue to be less of a worry for consumers, using standard services like Shopify, Paypal, or Square can help with both of these issues.
Abandoned Cart: Implementing A Recovery Campaign
Whether you're a solopreneur or part of a full marketing department, you want to do two things:
Recover as many abandoned shopping carts as possible

Save time, increasing revenue in the most efficient way possible
Today, there are multiple strategies for recovering shoppers that have abandoned their cart. The most prevalent and powerful tools for an abandoned cart recovery campaign include retargeted ads and automated email campaigns. Ideally, retailers deploy both tools as part of an integrated campaign. Below, we'll dive into the details of how and why each option is effective in recovering abandoned cart shoppers.
Abandoned Cart Recovery: Automated Email Campaigns
The most common tactic for recovering abandoned cart shoppers is through automated email campaigns. Strategically sending messages to shoppers' inbox helps convert and recover consumers nearly 15% of the time. From the right timing and number of emails to design and personalization, let's look at abandoned cart email best practices and shopper segmentation strategies to optimize automated email campaigns for abandoned cart recovery. Here's an article on how to implement a two-segment abandoned cart campaign in HubSpot, specifically.
Subject Lines That Grab The Shopper's Attention
It all starts with the first thing the shopper sees in their inbox: the subject line. While abandoned cart emails average a 48% open rate, it's become a challenge for marketers to break through the noise. We experimented with over 70 online retailers and pulled data from hundreds of emails triggered by abandoning a shopping cart. Here are a few highlights of takeaways from our findings: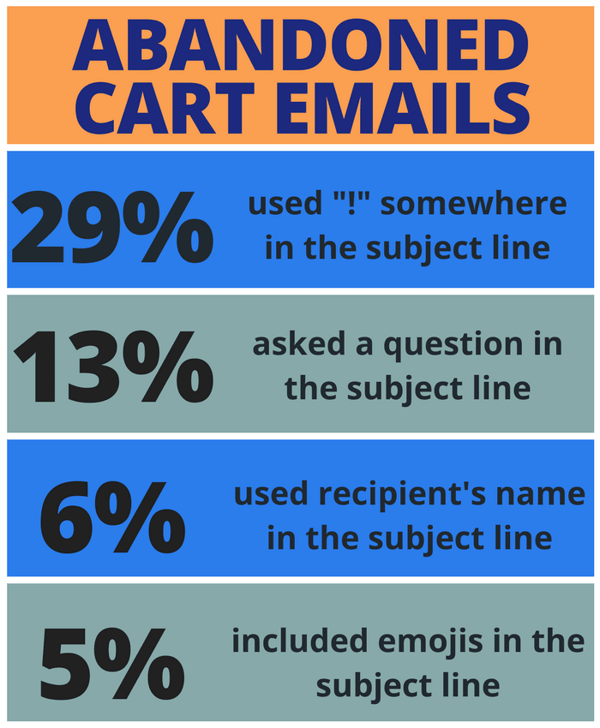 Additionally, 22% of the emails from the experiment began with "welcome" or "complete" in the subject line. Some of the unique subject lines used relevant emojis, and many followed the best practice of explicitly mentioning an exclusive offer or referencing what items shoppers abandoned in the cart. Beyond that, personalizing the email's subject line to call out the customer's name can also be effective in increasing engagement and open rates. Here are some examples of good subject lines that stood out from our experiment:
[NAME], don't miss out on your cart full of awesomeness at 80sTees.com.
Don't Leave Your Socks Behind
Complete Your Purchase at HICKIES With 20% Off!
Hey. You left without your shoes…
Your cart MADE us send this reminder ?
Uh oh [NAME], Did you forget something?
Baby, Come Back! Your Cart is Safe at Teddy ?
Check out the full list of abandoned cart email subject lines from our experiment for even more great examples to copy or avoid.
Clear Design and One-Click Checkout
Visually appealing design that includes images of the product(s) abandoned help to remind the shopper of what and why they were interested in buying from an online retailer.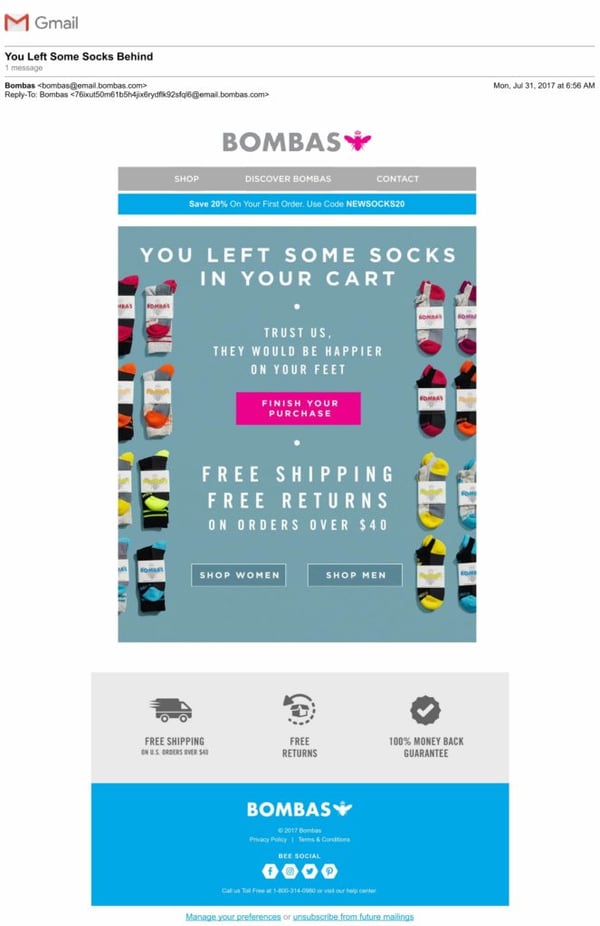 The Bombas email above is an excellent example of creative design and copywriting that fits the brand's voice and marketing messages. It also does a fantastic job of clearly promoting a coupon code, free shipping, and free returns. Clear CTAs like the "Finish Your Purchase" button and highlighting offers all lead to better conversion rates in abandoned cart recovery emails. Above all, having a link directly to the customer's shopping cart is the most important part of converting an abandoned cart recovery email. Even simple designs can use clear CTAs to encourage ease of conversion and recovering the items left in their shopping cart.
For example, 100% PURE's recovery email is a simple design but still highlights the customer's abandoned shopping cart for easy checkout.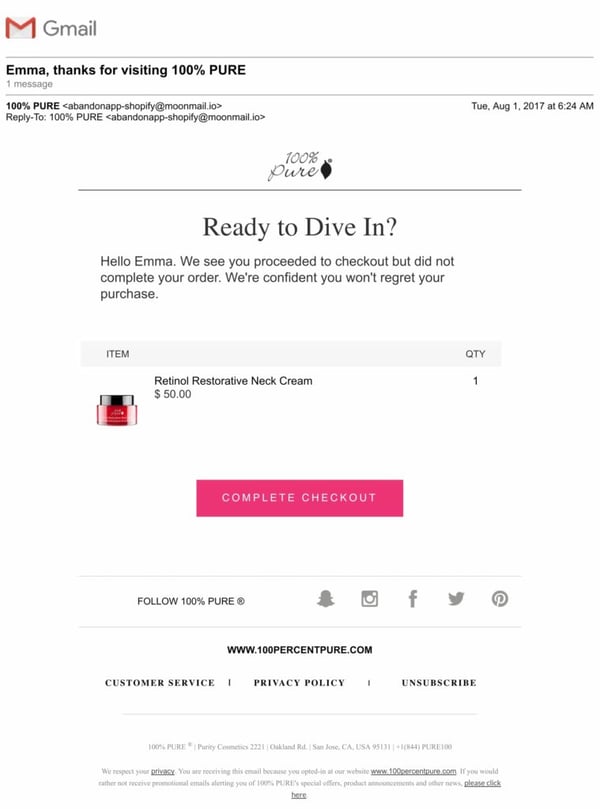 Timing Is Everything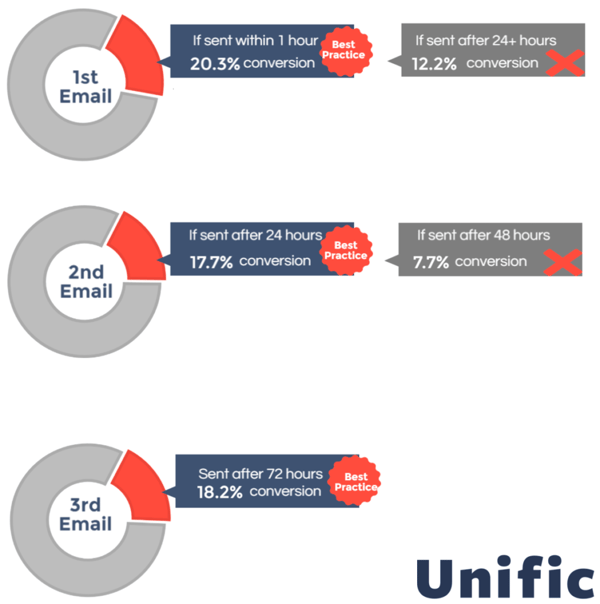 It's pivotal to send the first recovery email within an hour for optimal conversions. It's considered best practice to send a total of three abandoned cart recovery emails. Many online retailers make the mistake of sending a single abandoned cart recovery email, in fact, nearly 10% of the retailers from our abandoned cart experiment only sent one email for shopping cart recovery.
Segmentation and Personalization For Higher Engagement
Segmented email campaigns have a 14.32% higher average open rate and 63.71% more clicks than non-segmented campaigns. Another study found that personalized emails deliver six times higher transaction rates. So, most businesses are segmenting marketing campaigns but why not do the same for transactional emails, like abandoned cart emails?
Some popular segmentation strategies for abandoned cart email campaigns include the following.
Repeat Buyers: For instance, if a customer has purchased from a retailer 2+ times in the past 12 months then retailers may be more willing to offer a discount code in the first recovery email. Also, that email can thank them for their loyalty and even mention what they've purchased in the past. Strategies like this send a more personalized message and make the consumer feel more appreciated.
Multi-Page, Multi-Session Site Visitors Without Purchase: If someone has spent time on a retailer's site recently, viewed multiple stages in the past and now taken the next step by adding items to their shopping cart, then the messaging to recover their cart may differ from a first-time site visitor. This segmentation becomes particularly valuable when research estimates that 98% of site visitors will not buy on their first visit and 55% of website visitors leave within 15 seconds.
Where In The Check Out Process Shopper Abandoned Cart: If a shopper abandoned a shopping cart before or after seeing shipping fees or total costs, retailers could better understand what may have caused the consumer to leave the checkout process. If shipping and total costs occur on different pages, offering free shipping versus a discount code in a recovery email can help improve conversions based upon when the shopper decided not to buy.
If Shopper Abandoned Item X and Item Y: If a retailer sent emails to shoppers that abandoned shopping carts which included a wristwatch and earrings, offering a discount on a necklace that completes the look or a free gift that accompanies the jewelry instead of generic free shipping could improve conversions.
Segmentation allows retailers to utilize historical data and spot trends that lead to more sales, more revenue, and overall growth. Knowing what visitors and customers have historically done helps paint a picture of what a retailer can do to satisfy consumers' wants from the business. Additionally, segmentation allows for more strategic A/B testing as it gives retailers the power to isolate and test precise groups of consumers. Testing offers, product images, or subject lines with highly targeted groups of users can help identify small changes with significant conversion results.
Abandoned Cart Recovery: Ad Retargeting
30% of non-converting visitors return to a site through ad retargeting
Retargeted ads are standard practice for many marketing strategies because they've historically worked and are a vast improvement to traditional display ads. In fact, retargeting ads are 76% more likely to be clicked than non-retargeted display ads. Thanks to tools like tracking pixels, businesses can use boatloads of data to target the right shoppers at the right time to convert. While there are many options, this guide will focus on two types of retargeted ads for abandoned cart recovery: display ads and Facebook ads.
Display and Search Ads For Abandoned Cart Recovery
While traditional display ads are typically lower-cost, higher-impression options, retargeted display and search ads can be a powerful tool in recovering abandoned cart shoppers.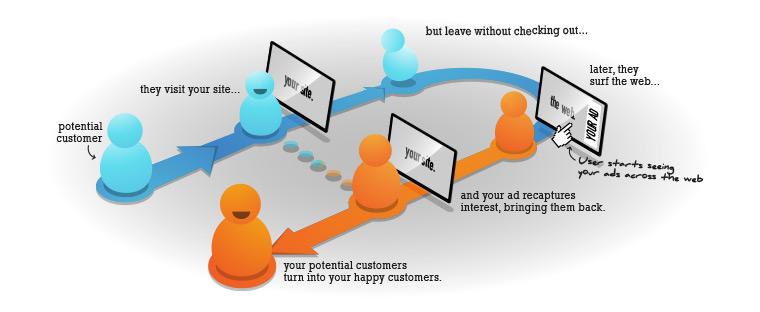 Retargeted Dynamic Display Ads
Dynamic display ads bring a wealth of value to online marketers, especially e-commerce businesses. These ads make it easier for retailers to create context within retargeted ads using site data and automated optimization. Retailers that use proper site tagging and dynamic template assets, shoppers can be targeted based on a vast number of actions and segmentation. Take a look at the image below for a high-level breakdown of how dynamic display ads work: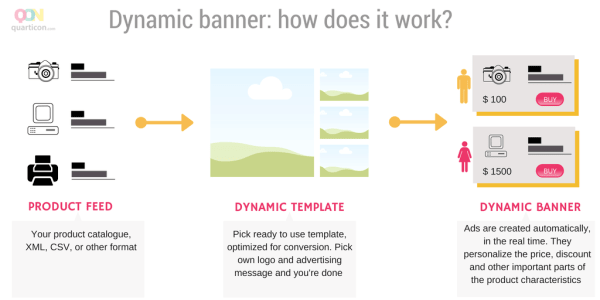 Dynamic ads, display or social, are always optimized to the media on which it's being served. For example, customers that are targeted on Instagram may differ from those on BBC News' website. Dynamic ads allow retailers to serve the right marketing message on the proper platform, based on campaign targeted parameters. Dynamic ads are particularly effective when segmenting shoppers, increasing the ability to target a consumer with a relevant message.
Segmenting Shoppers For Ad Retargeting
Like any good marketing campaign, it's critical to research and understand your audience. In the case of abandoned cart shoppers, start by segmenting these consumers that fail to complete the checkout process. Below are a few starting points for segmenting cart abandoners.
Segmenting Abandoned Cart Shoppers By Product: Retargeted ad campaigns based on individual items or similar product groups can build more context with the consumer and help them recognize the brand, product, and website quicker. Thanks to dynamic retargeting ads, retail marketers can automate retargeted display ads to show the exact products a consumer abandoned in a cart.
Whether it's a car or a pair of socks, shoppers can be served ads with custom images and copy. Dynamic ads save time and allow for multiple campaigns to run and be optimized based upon CTRs and conversions.
Segmenting Abandoned Cart Shoppers By Sales History: At the most basic level, segmenting first-time shoppers versus return customers allows you to deliver very different messages within the ad copy and design. Acknowledging that a customer has shopped at your store in the past by mentioning it within an ad or by offering them a unique discount code as appreciation can lead to improved conversions and increased lifetime value. Whereas new shoppers may need more aggressive tactics for conversion, like increased ad servings, clearer CTAs in copy, or offers that better protect retailer profit margins. For example, eBags used Google's AdWord retargeting to increase revenue by 15% and campaign efficiency (time spent managing retargeting campaigns) by 25% with some simple changes. eBags utilized AdWords' Return On Ad Spend (ROAS) functionality to automate bidding for optimal results, saving time on campaign updates.

To drive an increase in revenue, eBags added positive bid modifiers to customers that had purchased from their store in the past but also abandoned a cart within the past seven days. Using Google's dynamic product ads, Product Listing Ads (PLAs), eBags increased its click-through rate by 20% in addition to the 10-15% rise in revenue and 25% decrease in Cost Per Action (CPA).
Segmenting Abandoned Cart Shoppers By Order Value: The value of a customer spending $25 differs from another that buys $650 worth of products, so the messaging, design and ad spend should also vary. The buyer's journey is unique to the shopper, but the value of the item(s) they add to the cart can help identify how retailers should segment for recovery campaign ads. For example, a clothing retailer could segment cart abandoners with an order value under $50 and serve ads with free shipping or 5% off offers to entice conversions. While the same retailer could segment cart abandoners of orders valued over $500 and serve ads that offer exclusive style consultation, custom tailoring, or other premium offers that appeal to shoppers that spend more money.
Selecting An Ad Retargeting Service
While there are many different options for remarketing or retargeting, we're going to focus on two major platforms: AdRoll and Google (AdWords). AdRoll AdRoll offers a handful of marketing solutions, but they are best known for their retargeting plans. The AdRoll platform works with advertising partners like Google, Facebook Exchange, and others; allowing users to reach an estimated 98% of the internet. They are a leader in the remarketing space because they make it easy to target and reach site visitors based on things like location, on-site actions, and other preset segmentations. Many users prefer AdRoll because they're a Facebook partner, allowing businesses to reach site visitors across a multitude of online platforms. With simple app integrations like Shopify, AdRoll makes it easy to get remarketing campaigns started.
Google (AdWords) Google's network offers display, video, search, and in-app ads. Campaigns are created and managed within the AdWords platform, making it easy to integrate with most websites. Since Google is, well, Google, the ability to reach a targeted audience is nearly endless. From search history to site visits and on-site actions, Google offers the ability to easily retarget those shoppers who get away without completing check out. As we said, there are a lot of options for managing retargeted ad campaigns. Google and AdRoll are very powerful and widely used, but other popular platforms include:
For more information about comparing these options, last year
AdSkills made a quick and helpful comparison
of retargeting platform choices.
Campaign Strategies For Recovering Abandoned Cart Shoppers
Timing and Frequency: While recovery emails should send within an hour of cart abandonment, retargeting ads can pester shoppers when served immediately after cart abandonment. It's best to test different timing settings to find the optimal amount of time between cart abandonment and showing an ad. According to ReTargeter, serving an ad 17-20 times within a month is best practice. Over serving an ad to customers can annoy the shopper and be a waste of ad spend, after an extended period and chances to purchase, the likelihood of conversion drastically decreases.
A/B Testing Design and Ad Copy: Not only does A/B testing help optimize creative assets in ads but it helps keep ad sets fresh. Click through rates can decrease by nearly 50% after five months of running the same ad sets, according to a study. So A/B testing is essential for analyzing ad performance and future campaign decisions. There are a number of things to A/B test for ad optimization. Below are some common A/B testing ideas and examples of major brands testing ad components.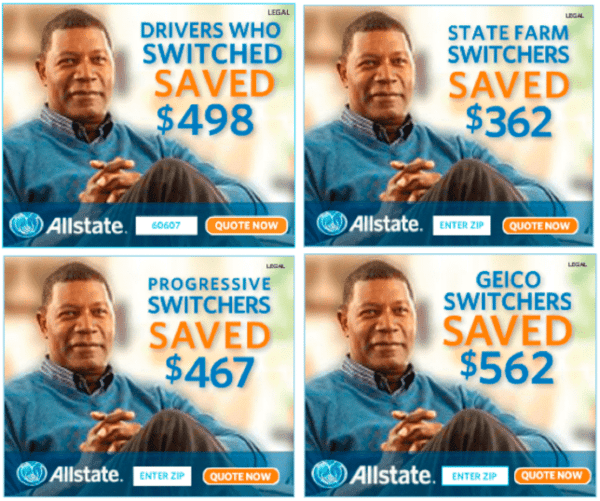 Ad Copy: The copy used within the ad, the text size and color, font, or effects like shadowing.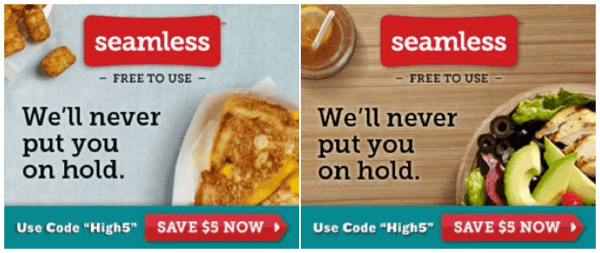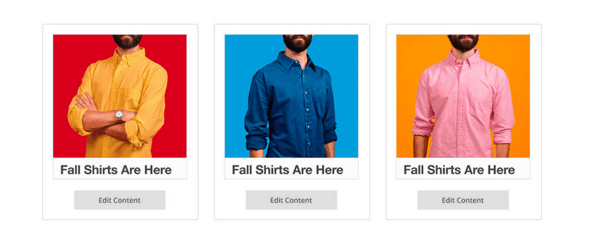 Design: Backgrounds, products, border colors, overlays, layouts, any creative visual aspects.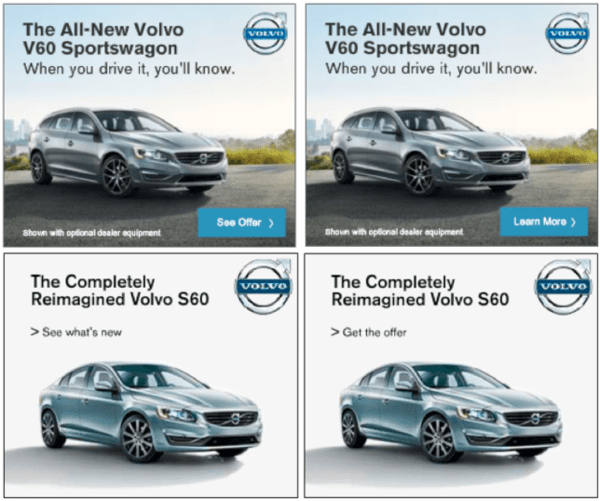 CTA: Buttons vs. hyperlinks, copy variations, colors.

Ad Headline: Test what is likely the first thing consumers will see and read.
Promotion: 10% Off vs. Save 10%, Free Shipping On Orders Over $50 vs. Free Shipping*
Retargeting display and search ads for abandoned cart shoppers can be useful in short term conversions and for long term brand familiarity. For more information on retargeting ads for cart abandonment, check out the following resources:
Facebook Ads For Abandoned Cart Recovery
Facebook has quickly become one of the most powerful tools in digital marketing. The social network's targeting options are second to none thanks to its vast amount of data and tracking capabilities. For cart abandonment ad retargeting, the essential piece of the equation is the Facebook Pixel.This pixel can track users and actions on a site, from clicks to page views to shopping cart additions. With the pixel on a site, marketers can then create Custom Facebook Audiences based upon actions tracked by the pixel. For help setting up Facebook for abandoned cart recovery, take a look at Uhuru Network's simple guide to tracking cart abandoners for Facebook retargeting.
Strategically Targeted Ads For Abandoned Cart Recovery
As Facebook builds custom audiences, retailers can leverage personalized ads for highly targeted ad campaigns. There are a couple of options for Facebook ad types that help convert shoppers, dynamic product ads and static creative template ads.
Dynamic ads use Facebook's tech to optimize campaigns, automatically serving ads based on campaign KPI goals. These ads allow for specific products or categories to be included in content served to shoppers that added the same products to a cart.

Using templates like the one above ensures Facebook users are served ads with the exact products they added to a shopping cart. This easy recognition can lead to an increase in conversions. Dynamic ads allow for hundreds of unique design and copy combinations, which Facebook's ad technology auto-optimizes for best results of each campaign's KPI. In Facebook's ad platform settings, each campaign can segment audiences based upon selected actions and measure the ROI of each ad, ad set, and campaign.
Retargeted Ads For Abandoned Cart Shoppers
Whether search, display, or social retargeting ads, shoppers want to recognize and recall the product and brand promoting ads. High-resolution images and short, clear copy should be used to grab the customer's attention. When consumers know a retailer is following them around the internet, they want to be reminded but not hassled to purchase items. Just like anything else, make it as easy and quick as possible to buy the items they previously added to the shopping cart. They've shown interest, and it's time to seal the deal. No matter where the roam on the web.
Abandoned Cart: A Massive Marketing and Growth Opportunity
Shoppers are 70% more likely to convert when retargeted after cart abandonment
Abandoned cart recovery campaigns are a necessity for any e-commerce store looking to increase sales and grow as a business. Retargeting efforts continue to be a powerful tool for e-commerce marketing, bringing back an average of 26% of users who will complete the checkout process. Additionally, approximately 50% of consumers open abandoned cart emails and 1-in-3 go on to make a purchase.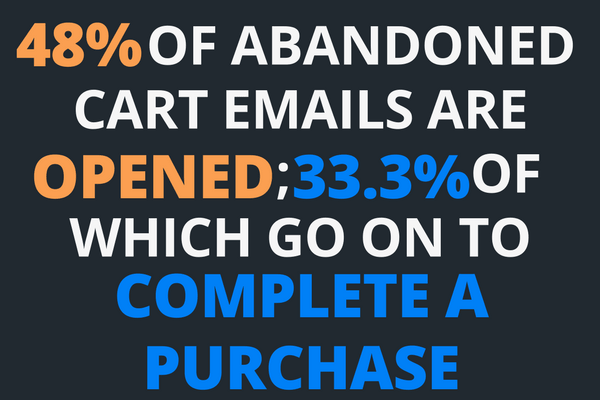 Abandoned cart recovery campaigns are a massive tool for growth because these shoppers have done much of the marketer's job. Cart abandoners are aware of a retailer's brand and products, and they've shown interest and intent in purchasing specific items. With the power of retargeting, automation, and segmentation, retailers can recover this previously lost revenue.