The cultivation methodology is a way of growing your business by building impactful, long relationships with partners, customers, and consumers. Businesses who cultivate understand that what they offer isn't a one size fits all solution. They take the time to discover their products' true value to customers, find those potential customers who resonate with that value, then focus their efforts on providing that value at the same or higher quality throughout the relationship. Those that resonate with your value the most are your core customers and cultivation grows your core customer base.
Attract

Use your understanding of your core customer base to attract people who have the potential to be nurtured into the high-value core segment.

Cultivate

Nurture your potential core customers by providing the value that they're seeking from your product and providing timely relevant messaging.

Retain

As they continue to grow and become part of your core segment, give them an exceptional experience that turns them into raving fans that attract new potential core customers.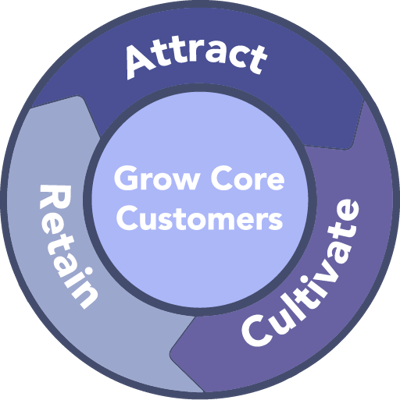 What is the flywheel and why did we choose it?
A flywheel is also a self-reinforcing loop made up of a few key initiatives. Those initiatives feed and are in turn driven by each other, and build a long-term business. The key to a successful flywheel is the ability to feed any part and accelerate the rest of the wheel. You can build momentum in your flywheel by investing in initiatives that deliver value to your customers.
The opposite is also true, add friction to any part and you'll add friction to the rest of the wheel. The biggest source of friction for customers is a business that pushes their products and messaging focused on what it can gain from the customer rather than on how they can help the customer.
In the wild flywheels take significant effort to get their movement started, but once you have enough momentum they begin to spin themselves. We chose the flywheel because of the balance it represents.
All sides need the equal force to keep the momentum going
Friction in one area needs to be addressed or it will throw off the performance of the others
The force to all areas needs to remain consistent or the momentum will slow down
A flywheel model of business illustrates that true success starts with a big push of effort to get going. After that big push it requires consistent attention on all areas to keep that initial momentum. Attention wanes, and momentum slows. Attention refocuses, and momentum grows.
Unific aims to proactively show merchants where their attention should be focused across the flywheel so that they reap the benefits of customer cultivation.
Customer Cultivation Strategies
Customer Cultivation is different in every business. Cultivating supplement customers is much different than cultivating fashion customers. Despite not being a one size fits all methodology, we can give some general tactics to add some momentum to the customer cultivation flywheel. Remember, your Customer Cultivation strategy is not all things to everyone. You're trying to reach those that resonate the most with your value and serve them. Even within your own customer base, if you're targeting everyone then you're targeting no one. Personalize every touch point with the value proposition that the customer is looking for.
Attracting Strategies
There is endless content circulating around attracting new customers but we like to focus our efforts around attracting potential core customers. Customer cultivation strategies that attract the potential core customers are oriented around strong voice of the customer programs.
To reach your potential core customers you need to understand where your core customers consume content and shop. From there, develop outreach strategies for each channel. For example, if your customers are athletes of various types then plan to set up booths at major events. If your customers are fashion savvy millennials, then a thriving instagram page would be a priority. Once you have established your channels, activate the promoters in your core customer base. Get customer reviews, shares, customer led stories, etc. Create shareable moments that your core customers are ecstatic about being part of.
The goal of this part of the flywheel is to attract people that identify with your core customers so that you have a much higher success in the next section, cultivation.
Cultivating Strategies
Cultivating takes your customer from their first order on through entering the core customer segment. Depending on the makeup of your customer base, it takes more than buying once or twice at an average amount to be a core customer. Businesses need to look beyond the second order into tactics that elicit order four, five, and beyond.
Activities that fit here are new customer welcome but more importantly, new customer onboarding. Identify with your customers at an emotional level by letting them know that you believe in the same things that they believe in. Check in with them at key points in your products' lifecycle to show that you care about them getting the most out of it.
This part of the flywheel will take the longest for merchants. Partly because isolating the value takes effort but also because your value will change and you need to change with it.
Retaining Strategies
Books, products, industries have been made about retention and almost all focus your retention efforts on getting evermore purchases with whatever gimmicks you can muster. Customer Cultivation says focus your efforts on delivering increasingly more value at every touchpoint in the life cycle and purchases will come as a result. Delivering that exceptional experience involves all parts of your business and the technology involved. From sales to customer service, the team needs to have a cultivation mindset.
Activities include taking a consultative approach to sales instead of a hard push. Solving problems before they arise with a knowledge base that's easily accessible. Behavior based triggers for email communications and automated messaging. Something that most brands undervalue, respond to customers on social media with gifts, rewards, or just to say thank you.
Don't just offer discounts that show that you only value their purchases, dig deeper and engage with your customers.
Take advantage of the power of Customer Cultivation today
Taking a Customer Cultivation approach can impact every touchpoint in your business. It'll focus your efforts around your customer's journey and providing value at the right time. The first step to getting your customer cultivation strategy is understanding your customer's buying behavior. Unific will help you see who your valuable customers are and integrate the tools needed to grow them.
Get a Free Customer Segmentation Report!