Shopify HubSpot Integration
Get started with our FREE plan and upgrade as you grow.
Loved by ecommerce brands all over the globe, including:
Take the next step and use your data to improve your business
Sync your Shopify data to HubSpot and get growing!
All of your customer information, as well as your entire cart order history, is gathered in one place for you to analyze, segment and act upon quickly and easily.
Customers & Prospects
Unific syncs your shopping cart customers and prospects to HubSpot as Contacts.
Orders & Checkouts
Unific syncs orders and checkouts (including abandoned carts) to HubSpot as Deals.
Custom Fields
Need to sync fields not covered by our default field map? We have you covered. Unific allows users to map additional or custom fields to HubSpot.
Products
Unific syncs products from orders and checkouts to the related Deal and Contact records.
Built for your custom needs
With Unific's advanced property mapping feature, you can create a custom mapping of specific data that you need for your business.

For example, if you are collecting the customer's birth date or anniversary date or any other field that you want to sync to HubSpot for greater personalization.

Unific enables this with a seamless interface.
Scrollable
Ecommerce marketing essentials included with your Unific subscription
Get the most out of your marketing automation investment through Shopify to HubSpot integration with features merchants love:
Pre-Built Smart Lists
When you connect your HubSpot account in Unific a number of smart lists that map to the customer lifecycle are automatically added to HubSpot.
Intuitive Workflows
Unific creates essential workflows (leveraging industry best practices) in HubSpot to shorten the time needed to start engaging with your customers.
Data Enrichment
Unific automatically calculates and appends key fields for RFM (recency, frequency, monetary) segmentation in HubSpot.
Test, Learn & Grow
When your shopping cart data is combined with the already powerful event tracking data HubSpot is capturing on your store, you can test, learn and optimize like a pro!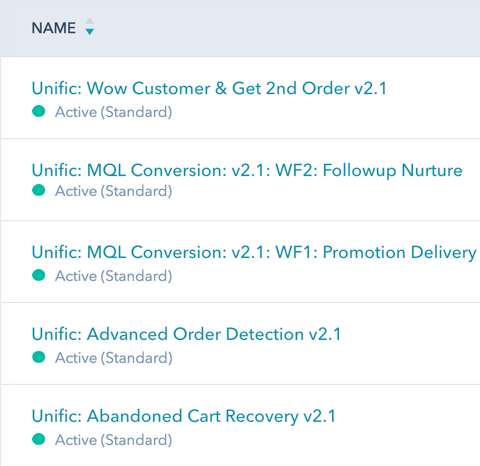 Coupons & offer codes made easy
Unific's dynamic coupon code builder enables you to easily create offers, sync them to HubSpot and send within your HubSpot campaigns.
Use offers to reward loyal customers, incentivize additional purchases or as a way to capture abandoned carts.
Unific's coupon builder prevents fraud, sharing or misuse with built-in protective features like "one and done" expiration, use-by dates and more.
Ready to get started?
Start now for free with our easy setup process. Sync contacts, orders and abandoned carts in minutes.
This site is protected by reCAPTCHA & the Google Privacy Policy & Terms apply.
No credit card required | Cancel anytime
Already have an account? Log in