Sync Shopify data to HubSpot in seconds
As one of the largest and most advanced marketing automation and CRM platforms, HubSpot provides online retailers with incredible opportunities to get the most out of their customer data.
This site is protected by reCAPTCHA & the Google Privacy Policy & Terms apply.
Get started with our FREE plan and upgrade as you grow.
More than 22 million orders synced.
That's an all-time gross merchandise value (GMV) of $5.5 billion.




An integration first — but so much more.
Shopify events and data in HubSpot.
Events
Unific's campaign builder allows you to do a number of actions in HubSpot based on events directly from Shopify.
Orders
Leverage the power of your customers' orders. Create campaigns that encourage repeat orders and other valuable actions.
Customers
Capture and analyze customer behavior and order history to identify and engage with your most valuable customers.
Products
Get instant insights into what's working and what isn't, and put the marketing power of HubSpot to work for both.
Never miss out on an opportunity.
Each customer interaction is a chance to make a sale — or encourage additional sales. Our growth tools allow you to do just that.
Order Confirmations
Unific helps you turn receipts into revenue with additional offers placed in order confirmation emails with exceptionally high open rates.
Coupon Code Generation
Dynamically create compelling offers for your customers that support new and repeat business and win back lost customers.
Support for More
You have a growing library of apps, and we have a growing library of solutions. Whatever the challenge, we'll identify an opportunity.
HubSpot Optimized for eCommerce
The right tools for the right business.
Out-of-the-box is never best-in-class. That's why we customize your HubSpot–Shopify integration based on your business and customers.
Custom Properties
Your HubSpot–Shopify setup includes extensive preset and custom fields to help you capture the information that matters most.
Intuitive Workflows
Based on industry best practices, we'll create workflows that move information and tasks to where they need to be at the right time.
Intelligent Lists
We'll segment customers into groups that make sense for your online business so you can quickly and easily target the right audience.
Strategy and Support
Unific unites eCommerce with success. That can only be achieved when we work together. Get the support and strategy you need to succeed.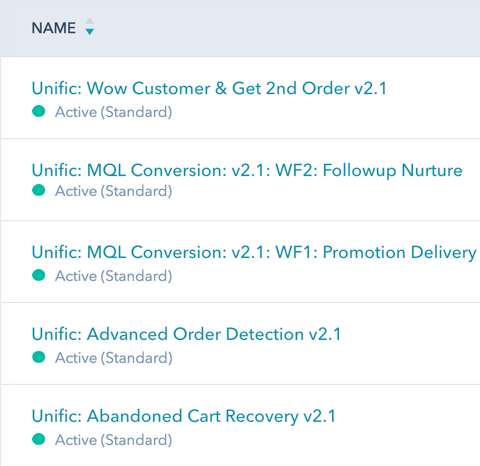 Data Into Insights and Insights Into Action
Get a direction founded in data.
There's nothing better than knowing what you should do next. Our HubSpot–Shopify integration gives you the data you need to make informed decisions.
It All Starts with Data
Shopify is collecting information on your customers, products, and business every second. Unific helps you put it to use.
Insights Arise From Data
Your data paints a picture — it shows you who your best customers are, what your best products are, and what marketing really works.
We Turn Insights into Action
When your data has charted a course for your next steps, our integration gives you the marketing you need to move forward.
Learn from Action and Repeat
Your campaigns produce more data, which you can further refine and learn from to improve your efforts for better results and growth.
Ready to get started?
Start now for free with our easy setup process. Sync contacts, orders and abandoned carts in minutes.
This site is protected by reCAPTCHA & the Google Privacy Policy & Terms apply.
No credit card required | Cancel anytime
Already have an account?
Log in