What is the 80/20 rule?
The 80/20 rule can be applied in many different contexts, and is likely already familiar to you. Also known as the Pareto Principle, the 80/20 rule states that for many events, 80% of the effects come from 20% of the causes. In ecommerce, the 80/20 rule simply means that most of your business – around 80% – probably comes from about 20% of your customers.
What is RFM segmentation?
Who are these valuable 20-percenters, and how can you find them? What can you learn about them when you do? That's where RFM analysis comes in. RFM – recency, frequency, and monetary – are the metrics used to determine a customer's lifetime value. Digging into RFM metrics can help businesses answer three important questions:
How recently did a customer make a purchase?
How often does the customer purchase?
How much do they spend?
Who can benefit from applying 80/20 and RFM?
At Unific, we've proven that the benefits of 80/20 and RFM aren't limited to enterprise ecommerce merchants. In fact, the insights gained from these tools can be even more meaningful for aspiring ecommerce brands. This is because wherever there are customers, there is data – and data is a tool for growth.
Growing and sustaining your e-commerce business is all about the strategies you use to push your products and engage your customers. As your business begins to gain more traction, you'll naturally gain more customers. However, not everyone is a great customer. Customer data presents an opportunity for ecommerce merchants to make more informed decisions. By examining the length of time since a customer's last order, the number of orders they've made over a certain timeframe, and how much money they've spent with you in that period, you can narrow down which buyers merit more focus, and therefore more of your valuable resources.
80/20 and RFM in action: Bolder Band
Used together, the 80/20 principle and RFM segmentation can be a key to reaching your most valuable customers. JD Crouse used this approach when he wanted to improve Bolder Band, the online headband and fitness wear retailer he founded with his wife, Amy.

The Crouses are well-known in the Shopify community for winning the 2014 Shopify Build-a-Business competition. Heralded as the world's largest competition for entrepreneurs, the contest challenges new businesses that sell through Shopify to grow and sell the most during an eight-month-long competition. Bolder Band won the highly competitive Fashion and Apparel category, which accounted for 42.6 percent of the competition's $120 million in total revenue.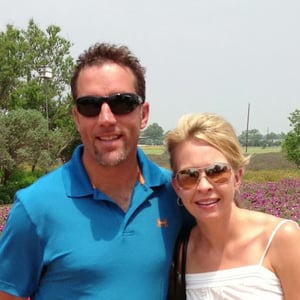 The Crouses understand the challenges of growing an ecommerce business, having taken Bolder Band from an idea to $6.5 million in revenue in about three years. When they entered the Shopify competition in 2014, Bolder Band was moving nearly $300,000 a month on the strength of a $15 product. How did Bolder Band make such a significant jump?
Bolder Band relied on benchmarking reports to determine which customers were the most valuable and therefore merited the most investment. These benchmarking reports highlighted data that identified the 80/20 opportunities in the customer base. By putting the most effort into marketing to its best customers, Bolder Band was able to grow quickly without relying on wasteful and outdated "spray and pray" tactics. As a business grows, the cost of advertising will only go up, so it's crucial to target the audience most likely to respond.
Applying 80/20 and RFM in your business – inside and out
The 80/20 principle is also alive and well within your company – you just need to use your data to find it. To suss out opportunities for growth, examine how the 80/20 principle manifests in your situation. Where is 80% of your revenue coming from? What's the 20% that is driving it? Once that is determined, you can apply RFM segmentation to place a value on these customers and drive more sales by targeting people who are really interested in what you do, which will lead them to spend more with you. In essence, the 80/20 rule tells you who to focus on, and RFM tells you why.
To start, examine the traffic coming to your site. Having lots of visitors is a good thing, but it's better to know which visitors are making purchases, and how they got to your site in the first place. With 80/20 and RFM, you can understand the difference between paid and organic traffic, and determine if you're spending too much on paid search in relation to how much ground you're gaining organically. It can also let you know if directing more resources into gaining paid traffic could actually benefit you in the long run.
You can also use 80/20 and RFM internally to get deeper insight on which products are performing well, and which ones might need some help. These tools can help you achieve a level of focus beyond just targeting your best customers – you can decide which specific products to feature more prominently to the most receptive audience.
Another area where 80/20 and RFM can support your decision-making process is in evaluating new opportunities once you've achieved a certain level of growth. At this point, you'll have more data to examine and more actionable information at your disposal – making 80/20 and RFM even more valuable. For example, if you're an online retailer not already selling through Amazon, it's likely to at least be on your roadmap. Approaching such a behemoth can be intimidating, but 80/20 and RFM can help you figure out next steps. These methods are key to understanding where your business is thriving so you can continue to grow.
When you delve into your data, you may find that the 80/20 rule doesn't seem to apply to you. Remember, though, that not every ecommerce merchant will have the same distribution. Healthy stores are very likely to have a larger percentage of their revenue coming from a smaller percentage of customers: say, a 90/10 or 95/5 ratio. Whatever your exact ratio, the 80/20 rule generally demonstrates which customers merit a greater investment.
Getting started with 80/20 and RFM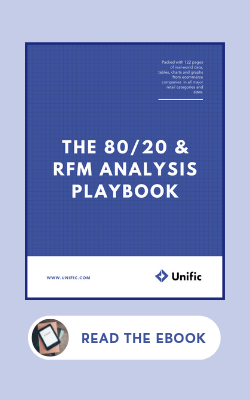 Not sure how or where to apply these methods? We've created reports based on data collected from customers across various industries showing how you compare to their key revenue ranges in key product categories. You can also view reports from 18 successful retailers in a single visual case study booklet that your business can use as an example to help your e-commerce business grow.
In these reports, you'll get a solid vision for how 80/20 can be applied in a business environment and how successful retailers used RFM to spot the best opportunities. You'll be able to see the information that retailers uncovered by examining their data and get a real-world look at how this information can be directly translated into growth.
If you're ready to take the next step towards a data-driven approach to growing your e-commerce business, the 80/20 rule and RFM segmentation are great ways to identify where to plant your flag. Don't get stuck doubling down on something that won't be worth it in the end – these methods help you make informed decisions that will help shape your business into a successful and fast-growing online retailer.