What is 80/20 & RFM Analysis?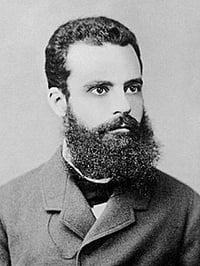 More than 100 years ago, Italian economist Vilfredo Pareto wrote a paper arguing that 80% of the land in Italy was owned by 20% of its population. This would come to be known as the Pareto Principle. Over time, this observation would become a staple in applications ranging from math and software to sports and even accident prevention. For ecommerce, the 80/20 rule is simple: 80% of your business comes from 20% of your customers.

Who are these valuable customers? How can you find them? What can you learn about them when you do? That's where the 80/20 RFM analysis comes in. RFM stands for Recency, Frequency, and Monetary — the three metrics used to determine a customer's lifetime value. 80/20 RFM analysis explores these three metrics against the varying segments of your existing customer base.
Who benefits from 80/20 & RFM Analysis?
At Unific, we believe — and have proven — that the benefits of 80/20 RFM analysis aren't limited to enterprise ecommerce merchants. The insights gained from this analysis can be even more meaningful for aspiring ecommerce brands.

Every business that has customers has data, and that means there are opportunities to use that data to make more informed decisions and leverage powerful tools to take action.
By examining the length of time since a customer's last order, the number of orders they've made over a certain timeframe, and how much money they've spent with you in that period, this analysis can help you can narrow down which buyers you should be focusing your efforts on.
80/20 & RFM Analysis identifies your best growth opportunities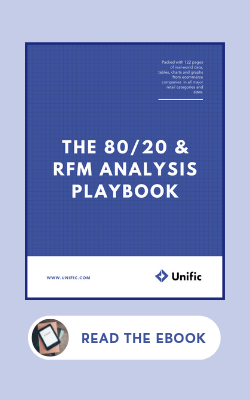 Growing and sustaining your e-commerce business is all about the strategies you use to push your products and engage your customers. As your business begins to gain more traction, you're going to see more customers, but unfortunately, not everyone is a great customer.
In order to drive your business forward, you have to be able to target the customers that are bringing you the most benefit, but in a sea of orders, how do you figure out who they are?
The 80/20 principle and RFM segmentation are two ways that you can identify customers who are doing the most for your e-commerce business.
The 80/20 principle says that 80 percent of effects are caused by 20 percent of causes. For online stores, this means that 80 percent of sales are coming from 20 percent of customers.
However, if this doesn't sound like your business, don't worry. Not everyone is going to have the same distribution. Healthy stores are likely to have a larger percentage of their revenue coming from a smaller percentage of customers, like a 90/10 or 95/5 ratio. This isn't a bad sign either. Your lifecycle marketing might not be as strong as your advertising, so you have to rely on the latter to see positive results.
No matter what your ratio is, the 80/20 principle shows which customers would merit a greater investment. It can be applied to just about anything, but successful businesses swear by it as a strategy for their development.
RFM segmentation is a method used to determine the worth of your customers by looking at the history of your transactions. It's broken up into three parts: recency, frequency, and monetary value, hence "RFM". These three values are used to show how long it has been since a customer's last order, the number of orders they make in a certain time period, and how much money they've spent over that time period.
80/20 & RFM Analysis in action: Bolder Band

Used together, the 80/20 principle and RFM segmentation can be exactly what your online business needs to find more success. These methods are exactly what JD Crouse used when he wanted to improve his business, Bolder Band.
JD and Amy Crouse are well known names in the Shopify community for successfully building their company into the winner of the 2014 Shopify Build-a-Business competition, which is no small feat. Heralded as the world's largest competition for entrepreneurs, the contest challenges new businesses selling through Shopify to prove they're the best by growing and selling the most in an eight-month-long competition.
Out of the ten winners of the competition, Bolder Band won the Fashion and Apparel category, which had the most competitors and revenue, accounting for 42.6 percent of the $120 million in total revenue.
Bolder Band is an online retailer of headbands and fitness wear built on a passion for encouraging women to be Bold and Beautiful! Through the use of these smart marketing strategies and sales tactics, they were able to grow their business from an idea to $6.5 million in revenue in about three years.
Crouse understands the challenges of growing an e-commerce business as a result of the time he's spent helping grow Bolder Band. Their product took off, and when they entered the Shopify competition in 2014, they were selling nearly $300,000 a month (of a $15 product). How did they make such a significant jump? Of course, there's a lot of real work that goes into any business finding serious growth, but the 80/20 principle and RFM segmentation played a role in how Bolder Band found success.
Crouse relied on benchmarking reports in order to help him determine which customers on average were the best to pursue. These benchmarking reports show data that highlights where the 80/20 opportunity is within a customer base. It proves that the 80/20 principle is alive and well within the sales of a company - all you have to do is find it.
So what's the benefit for your business? If you want to grow, you have to pay attention to how the 80/20 principle applies to your situation. Where is 80 percent of your revenue coming from? What's the 20 percent that is driving it? Once that is determined, you can use RFM segmentation to place a value on these customers and drive more sales by targeting people who are really interested in what you do, which will lead them to order (and spend) more with your business.
The 80/20 Principle tells you who to put your focus on, and RFM Segmentation tells you why
If you're an e-commerce business, no matter at which stage you find yourself, you're constrained by time, money, and competition. As you grow, the cost of advertising is only going to go up, so it's crucial that you're putting your money towards an audience that will have a higher chance of taking action.
Business growth is great, but it doesn't mean you'll be sitting back in your chair relaxing either. Growing from the point of a multi-hat entrepreneur to enlisting the efforts of a digital marketing team doesn't mean the amount of time you have available goes up, it just means you're working on bigger things.
Right now is also the coming age of Amazon, and if your products aren't already being sold on their site, it's likely that you've thought about it. Approaching such a big retailer can be scary, just like any step to growing your business. But using the 80/20 principle and RFM segmentation can help you figure out what you should do next. These methods are key to understanding where your business is doing the best, so you can capitalize on that and grow from it.
Using these methods, you can apply them to your business in a number of ways. To start, you can get a better look at the traffic that's coming to your site. While a lot of visitors is good, it's better to know which of those people are actually making purchases and how they got there. Are these people paid traffic or organic? Using the 80/20 principle and RFM segmentation can help you see if maybe you're spending too much because you're gaining a lot of ground organically. It can also let you know if putting more money into gaining paid traffic could actually benefit you more in the long run.
Both of these methods can be applied to customer segmentation. Like we mentioned earlier, you have a list of customers, but which ones are helping your business the most? These methods will prevent you from spending too much time retargeting customers who aren't placing frequent or sizable orders. You'll be able to focus on the 20 percent of customers who are providing the most revenue.
Don't just use these methods to focus externally either, look internally and use these methods to give you more insight on which products are performing well, and which ones might need some help. Use RFM segmentation to give your product's values on how they're performing to give you an idea of what would perform best in advertising. Both of these methods can also help you decide which products you should feature more prominently in your store to drive more purchases.
The 80/20 principle and RFM segmentation can be applied to just about everything within your business to keep you focused on things that are benefiting you most. By the way, you can also use these to identify which parts of your business or customer base might be causing you the most problems. As much a problem solver as an opportunity identifier, these methods are key tools that your e-commerce business needs to find more success.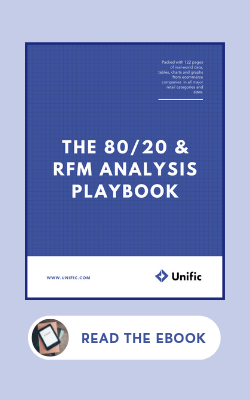 How do you get started? Not sure how or where to apply these methods? Try one of our reports to benchmark yourself. We've created reports based on data we've collected from customers in various industries that show how you compare to their key revenue ranges in key product categories. Then we put the 18 reports from 18 successful retailers into one visual case study booklet that your business can use as an example to help your e-commerce business grow.
With each of these reports, you'll be able to get a solid vision for how the 80/20 principle can be applied in a business approach, and how these retailers used RFM to spot the best opportunities. You'll be able to see the information that the retailers uncovered from examining their data and get a real-life look at how this information can be directly transferred into how to grow your business.
If you're ready to take the next step with your e-commerce business, the 80/20 principle and RFM segmentation are great ways to identify where to plant your flag. Don't be focused on doubling down on something that won't be worth it in the end. These methods help you make informed decisions that will be good for the long run and help shape your business into a thriving and successful online retailer.