Quotific CPQ helps Shopify Merchants Boost Draft Order Sales with HubSpot's Powerful Sales Tools
Create and manage Shopify Draft Orders in HubSpot to maximize close rates. Automatically personalize the experience for customers, streamline the sales process for sales reps, and make sales managers happy with HubSpot's powerful sales reporting.
60 Day Money Back Guarantee!
Used by B2B Ecommerce Brands All Over the Globe
Simplify Sales Process for Shopify Draft Orders
Streamline your sales process
Create draft orders in Shopify directly from HubSpot, saving sales reps time and preventing errors.
Let Sales People Live In HubSpot
Jumping between Shopify and HubSpot is frustrating. Avoid duplicating efforts and stay in HubSpot for Draft Orders.
Use Shopify Products & Variants in Deals
Use Shopify products and variants directly in draft order quotes & deals instead of HubSpot products which can't use Shopify variants directly.
Improve Sales Team Performance and ROI
Measure performance of sales reps to increase close rates. Sales managers gain insights to optimize the sales process with HubSpot's powerful reporting.
Enhance customer experience
Quotific connects Shopify and HubSpot, making it easy for reps to remind customers automatically of open orders and offer assistance to help win deals.
Get your draft order sales process organized
Quotific with HubSpot helps keep your sales process organized & efficient, so the team can focus on higher-value tasks like reaching more customers at scale.
Manage Draft Orders as Deals in HubSpot
Prevent errors caused by manually copying a Shopify Draft Order as a Deal into HubSpot
Automatically close deals by sending reminders of open Draft Orders with sales sequences in HubSpot
Use Draft Order Invoice URLs to send prospects directly to Shopify Checkout
Keep track of Draft Order Ids, Draft Order Name, and Draft Order Statuses inside HubSpot and use properties for automation and personalization
Make Sales Reps More Productive
Create draft orders from abandoned carts easily without switching between Shopify and HubSpot
Reps can seamlessly move between Shopify and HubSpot with Unific's CRM cards that let sales reps navigate directly to the customer in Shopify
Automatically Move Deals to Closed Won
Track revenue generation company-wide or by account executive and by date
Customize which HubSpot deal pipeline the draft order deals get organized in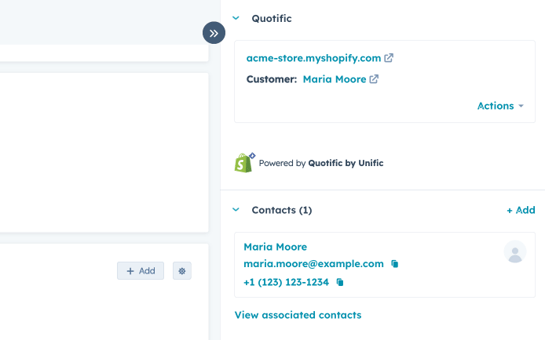 One-click access to the customer in Shopify with Unific's CRM card on HubSpot Contact and Deal Records
Close More Deals
Quotific lets Sales People Use HubSpot's Powerful Sales Pipeline & Automation to Help Organize and Track Shopify Draft Orders
| Without Quotific + HubSpot | With Quotific + Hubspot |
| --- | --- |
| Shopify Admin shows a long list of draft orders with paging. | Quotific uploads draft orders into HubSpot into the appropriate deal pipeline and deal stage |
| Older draft orders go to the next page and get forgotten and just sit in place. Can't automatically nurture stale draft orders. | Older draft orders stay in the pipeline for sales managers to track and/or automated nurturing can be triggered when draft orders get stale. |
| Salespeople have to spend mental energy remembering older opportunities and lose concentration on current opportunities. | Salespeople can rely on automation to remind them of older opportunities and have a greater focus on current opportunities. |
Quotific creates draft orders as deals in any HubSpot sales pipeline allowing the sales rep to be assigned to the deal automatically or manually. Sales reps can be assigned tasks automatically to follow up if any draft order deal gets stale.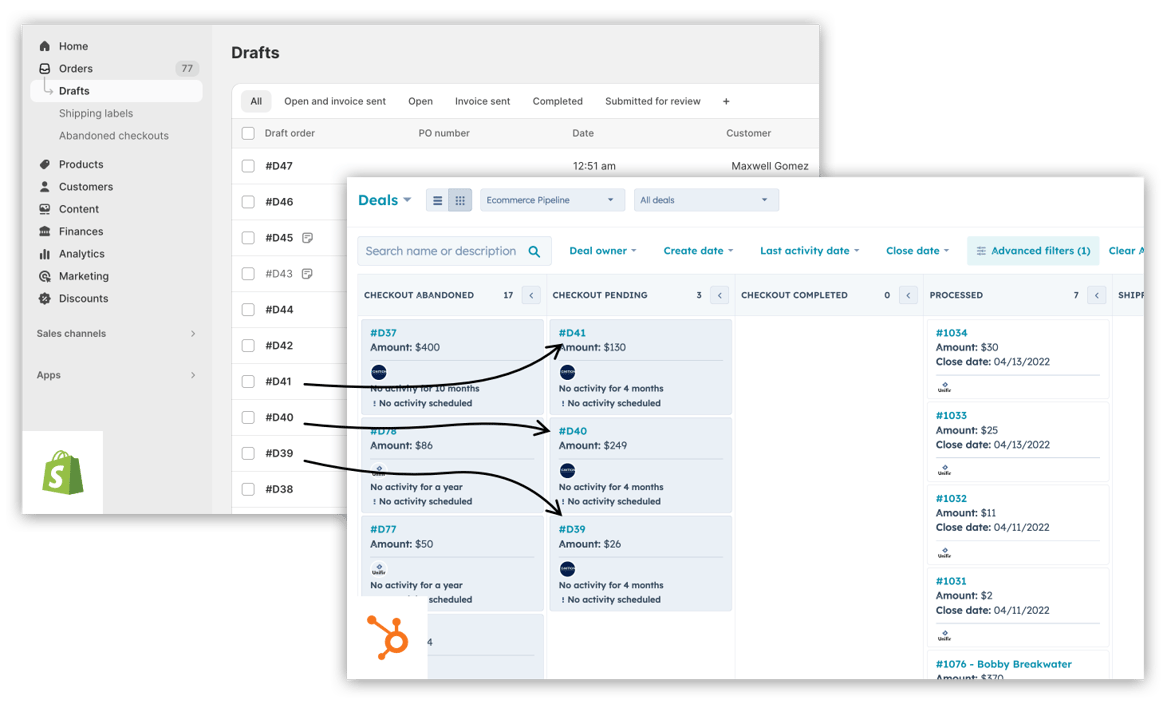 Nurture draft orders with deals in HubSpot but let customers use the high converting Shopify Checkout process
Quotific lets Sales reps manage and nurture Draft orders with HubSpot, while sending invoices to customers via Shopify.
This allows customers to checkout directly through Shopify, with transactions and payments integrated with Quickbooks, accounting software, inventory, and all other required Shopify apps.
Shipping methods from Shopify are available to select and can be estimated during draft order creation.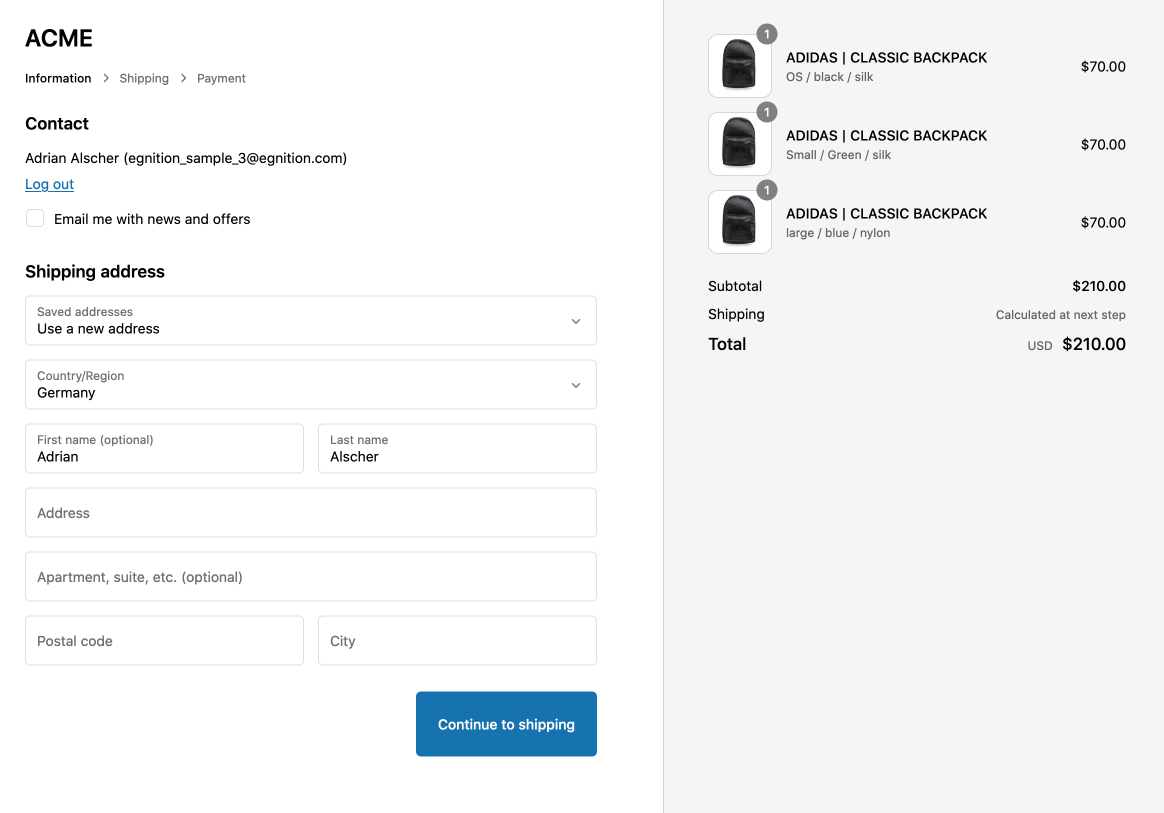 Flexible: Configure Deal Pipelines to Work How Your Team Wants to Work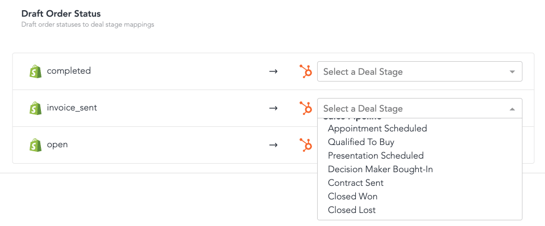 Customize deals to sync to any deal pipeline or deal stage.
Track the Sales Team's Performance on Closing Draft Orders

Report Example: Funnel Report, what percentage of draft orders converted to completed orders
01: Create Shopify Draft Order from Hubspot
Inside HubSpot, Quotific allows you to create a Shopify draft order for a Contact or a Deal.

Just select a Contact or Deal and click "Create Draft Order" and the Quotific CPQ screen will appear directly in HubSpot.
And yes, it works with multiple stores!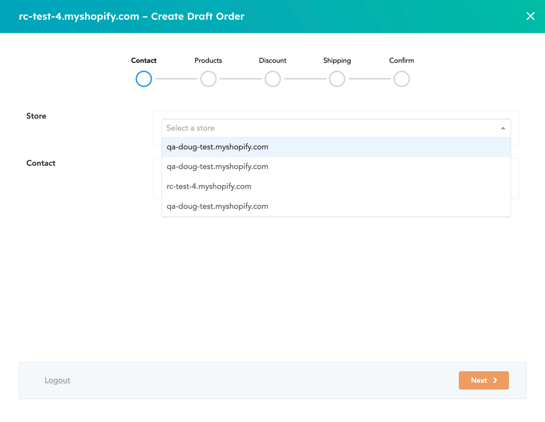 02: Select Shopify Products and Variants to add to Draft Order
Select from the list of products that exist in Shopify instead of the products that exist in HubSpot. Quotific uploads Products and Variants from Shopify into HubSpot automatically.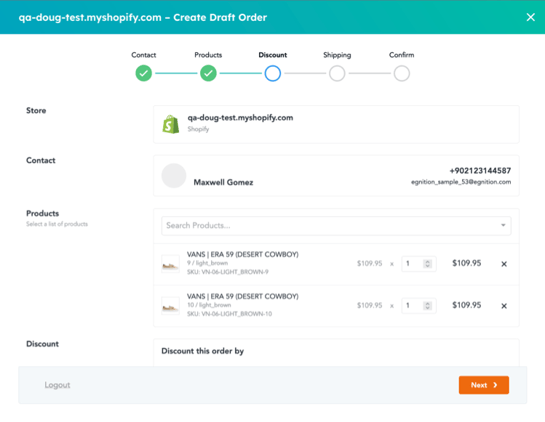 03: Add Discounts, Shipping, and Notes to the Draft Order
Add discounts to the draft order with reason for the discount.
Select shipping location and shipping address - or don't! It's optional!
Add a draft order note and it will be added to the draft order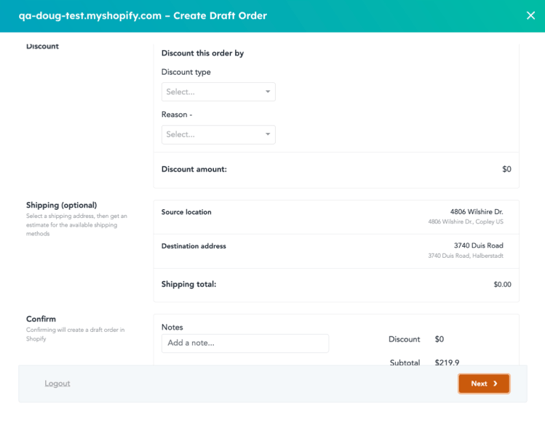 04: Confirm & Create Draft Order, then Send Invoice through Shopify or HubSpot
Create the draft order in Shopify
Confirm then send invoice to the customer through Shopify or later through HubSpot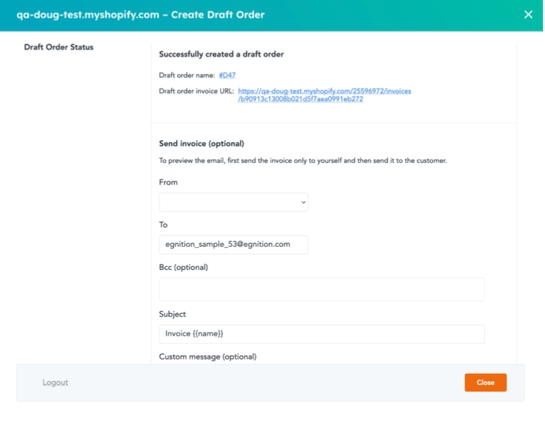 05: Manage Draft Orders as Deals in Hubspot
Draft orders will be pushed into HubSpot as Deals to be tracked, managed, and nurtured by salespeople or automatically.
Choose any sales pipeline for the draft order deal to go into to provide clarity and organization.
Once the customer pays via Shopify's Draft order invoice URL, the existing draft order data will be updated and a deal closed date will be set automatically - preventing a second deal for the same transaction and ensuring accurate reports.