So, you've decided to implement a campaign of abandoned cart emails. Great decision! Because as sure as the sun will rise tomorrow, customers will desert shopping carts. In fact, eCommerce sites face an average shopping cart abandonment rate of 69.23%.
From unanticipated costs to complicated checkout processes, there are a ton of causes that end in shoppers failing to complete a checkout. Luckily, this can trigger a series of automated emails for cart abandonment recovery.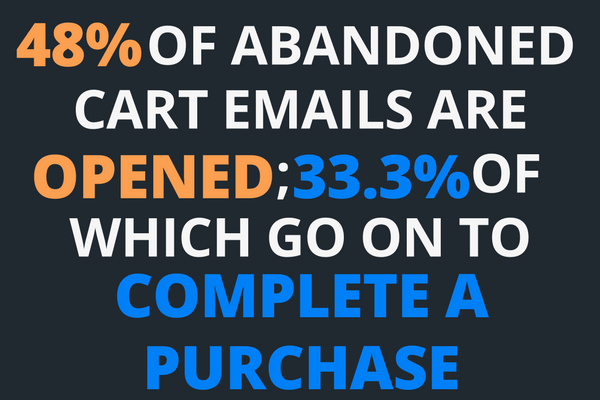 The chances of converting these consumers are only as good as the abandoned cart emails they receive. So, let's talk best practices!
Abandoned Cart Emails: The Essentials
Abandoned Cart Subject Lines
DO: You Left Some Socks Behind
DONT: Thank you, here's your discount code.
The examples above are subject lines from real abandoned cart emails. The first subject line is a great example of following best practices: include the abandoned item's product or category name in the subject line. The second example, while it's great to offer a discount, makes no sense. If the email subject line read, "Thanks for considering our [product name] - here's a discount code" then it would fit the context of an abandoned cart. Instead, the email assumes the customer completed their checkout.
Here are more examples of real subject lines used for abandoned cart emails:
DO: Hey. You left without your shoes...
DON'T: The Official Rewards Program!
DO: Baby, Come Back! Your Cart is Safe at [Store Name]
DON'T: You're signed up for fun (and savings) from [Store Name]
DO: [Customer Name], don't miss out on your cart full of awesomeness at [Store Name]
Abandoned Cart Email Content
Possibly the most important best practice for abandoned cart emails: Link directly back to the shopping cart!
The goal is to guide your customer through the path of least resistance, making it as quick and easy as possible to complete their purchase.
Additionally, make your abandoned cart emails entertaining and visually appealing. Good copywriting, from the subject line and beyond, is key to engage your shoppers. Ideally, include an image of a product they abandoned in their shopping cart.
Beyond the direct link to the shopping cart plus creative copy and design, it has become customary to include a discount code for checking out, free shipping, or some type of offer to entice the customer to complete their checkout.
Abandoned Cart Emails: Beyond The Basic
Timing Is Everything
Don't waste time; the first email should send within one-hour of abandonment.
1st Email: those sent within the first-hour average a 20.3% conversion rate versus 12.2% if sent after 24 hours
2nd Email: those sent after 24 hours average a 17.7% conversion rate versus 7.7% if sent after 48 hours
3rd Email: those sent after 72 hours average an 18.2% conversion rate
Sweeten The Pot
86% of consumers claimed the cost of shipping as the primary reason for abandoning a shopping cart, according to Statista. So, if you want to convert these shoppers, offer free shipping in your abandoned cart emails. If you do, ensure your offer is clear and for the reader to see and understand.
Additionally, 72% of consumers abandoned carts because the cost of the order became too expensive during checkout. You can recover these shoppers with a discount offer - common forms are discount codes for 5%, 10%, or 15% off the abandoned order.
DO: Be clear if there is any qualification for the offer (minimum order total, must input a discount code, etc.)
DONT: Offer discount codes that can be posted to sites coupon collection websites
DO: Make the offer time sensitive and be clear about how long the shopper has to use it
Abandoned Cart Email Strategies: Do, Learn, Adjust, Repeat
Implement a strategy that uses these best practices, test, and learn. If you do not see conversions, try changing your email timing, or value of the discount offer, or subject line, etc. In 2015, there were near $4 trillion dollars in abandoned merchandise. An abandoned cart email campaign can have a quick and powerful impact on your revenue, so get started implementing one today.