Many ecommerce brands know their data is critical – they prioritize collecting and storing it, and perhaps even use some of it – but aren't able to be strategic about leveraging it to grow their business. And large amounts of data (as much as 60-73%, by Forrester's estimate) simply sit dormant, locked in systems that don't talk to other systems.
The above scenario is relatively common. We call these organizations "data-aware:" they know the data exists and that it has value, but for whatever reason struggle to unlock that value. To evolve into a data-influenced or data-driven organization, it's essential to understand how to harness the power of all that information.
Naturally, there are a lot of solutions designed to help merchants achieve more data maturity, but as a services organization with deep experience in HubSpot environments, we've assembled what we consider the ultimate HubSpot ecommerce tech stack.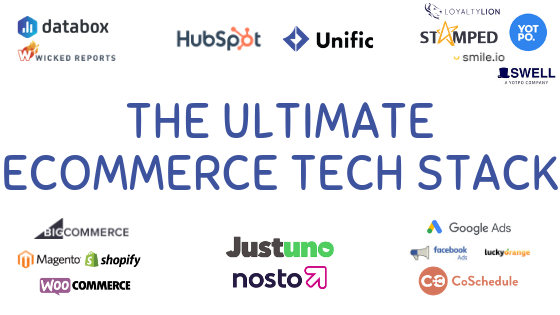 Data and the ecommerce flywheel
When HubSpot changed its prevailing inbound framework from a funnel to a flywheel, it was a natural progression into today's customer-centric environment. Rather than treating customers as the end result of a top-heavy methodology – where all the investment goes into attracting customers, only to see them fall out the bottom of the funnel – the flywheel puts customers at the center, and takes into account their ability to help your business grow through referrals, word-of-mouth, ratings, and reviews.
With our partners at HubSpot leading the charge, we've adapted their flywheel model for the ecommerce use case, as illustrated below: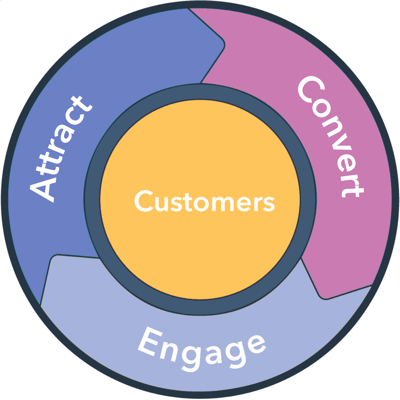 The flywheel works best when it's frictionless, meaning that opposing forces are reduced or eliminated. Ecommerce brands can reduce friction by making it easy for customers to find them, simplifying the buying process, and streamlining the rating and review process – all without getting tripped up by tech that's either bulky or balky.
The ultimate ecommerce tech stack
As we've discussed in previous articles, data-aware organizations have data – lots of it. And perhaps some of their most important tech tools are already talking to each other. However, we've seen that more sophisticated integration and the addition of a few critical elements can really move the needle beyond data-awareness. Based on our real-world experience with successful brands, we want to shout out the tools that are best equipped to empower our clients to increase data maturity and create flywheel velocity.
Depending on what your brand wants to accomplish, this is the ideal-world scenario we recommend…because we know it works!
Shopping Carts
Along with marketing automation, shopping carts are the backbone of your ecommerce operations. Integrating these two critical systems will automate workflows and provide important customer insight.
We recommend: Shopify, Magento, BigCommerce, WooCommerce
Shopify offers ecommerce and point of sale tools for just about every stage of the customer journey, from branding and store design to managing payment and shipping.
Magento is part of the Adobe Experience Cloud and offers an open source commerce program for small business, mid-market and enterprise customers. The company's customizable tools include shopping cart, marketing, SEO, and catalog management.
The BigCommerce enterprise ecommerce platform that offers a number of powerful features for store set-up, inventory management, order processing, and branding.
WooCommerce is an open-source ecommerce plugin for WordPress that's known for its simplicity and ease of customization.
Attract
This is where many people will jump into your flywheel. They might see a piece of your content, read a rave review, or click on a targeted ad in a social platform. Regardless of how they arrive, at this point, they're still unknown to you, and you can begin to learn a bit about them. How did they find you? In general, who are they? What can you learn by examining what they do when they go to your website and start clicking around? Even at this early stage, you can start to identify what makes some potential customers navigate away from your site or leave something in their cart. What you learn from these early interactions can help you find more people, find the right people, or get people to return.
We recommend: Lucky Orange, CoSchedule, Facebook, Google AdWords
Lucky Orange offers a suite of conversion optimization tools, including the ability to record site visits to see why a visitor didn't convert, heat maps to visualize how customers interact with a website, robust chat features, and a dashboard to see what's driving site traffic and behaviors.
The CoSchedule marketing platform offers visibility across marketing activities, including content production and organization, social posting, and project management. The CoSchedule suite of tools enables teams to complete more work, finish projects on time, and demonstrate the value of marketing activities.
Facebook's ecommerce tools are designed to assist retailers at every stage of the customer journey, including reaching new audiences, strengthening existing customer relationships, and increasing conversions among its two billion monthly users.
Google AdWords allows retailers to create effective campaigns to drive followers, increase ecommerce sales, and promote loyalty or word-of-mouth activities like online reviews and recommendations.
Convert
Transforming someone from prospect to customer is a big win, and another great opportunity to gather more valuable data. Engage these buyers with personalization that goes beyond name-checking them in an email subject line – emerging technologies like artificial intelligence can put your once-passive website to work converting casual visitors to loyal customers.
Justuno is an AI visitor converstion program that uses visitor intelligence technology to analyze data and create visitor profiles that identify and track website visitors, enabling retailers to capture and convert leads more quickly.
Nosto's AI-powered ecommerce intelligence engine enables retailers to build, launch and optimize 1:1 omnichannel marketing campaigns and personalized digital experiences. The platform integrates with major ecommerce tools, enabling it to pull in back-end data and push it to other channels to ensure a unified personalization experience.
Engage
Here's where the power of the flywheel pays off for ecommerce brands – customers aren't just an end result, but fuel for your growth engine. It's in your best interest to make it easy for satisfied customers to rate, review and recommend your products and services. You can also reward customers for their repeat business to increase customer retention and spend. Creating customer evangelists has the happy dual effect of boosting your capital among prospects and strengthening your relationship with people who already know and love you.
We recommend: Stamped.io, YotPo, Swell, LoyaltyLion, Smile.io
The Stamped.io customer marketing platform helps retailers collect user-generated content, such as online customer reviews, and use it to increase conversions, build trust and promote products and services.
Yotpo's ecommerce marketing platform leverages valuable social proof at every stage of the customer journey, enabling retailers to increase growth with reviews, visual marketing, loyalty, and referrals. Yotpo's Swell Rewards is an incentive marketing platform that helps merchants build branded reward, referral, and influencer marketing programs.
LoyaltyLion supports merchants' ecommerce growth strategies with its data-driven ecommerce loyalty and engagement platform designed to increase customer retention and spend.
Smile.io supports ecommerce loyalty programs to convert one-time sales into repeat customers. The platform lets retailers establish points programs, offer customer status rewards, and create customer advocates.
Reporting
Connecting all your data inputs to a reporting function is critical for ongoing planning, strategy and execution. Knowing where your best leads originate and where your ad spend is doing the most work can refine your future plans and apply your budget where it will have the most impact. This is an area where you can really add momentum to your flywheel – the better you are at targeting valuable customers, the less friction you'll experience. As a bonus, this is a big step in moving from data-aware or data-influenced to data-driven.
We recommend: Wicked Reports, Databox
The Wicked Reports marketing attribution platform is designed to enable small businesses to track and measure the performance of their marketing and advertising programs, including paid ads, email marketing, and social media.
Databox is a business analytics KPI dashboard that aggregates data so retailers can track performance in real-time, through indicators like sales, leads, conversions and other critical data streams.
Amplify the value of your tech investments
In our experience, focusing on a few tactical areas yields the best results for ecommerce brands that want to get the most out of their technology and use their data as a springboard for growth.
Integrations – don't reinvent the wheel
Resist the temptation to start from scratch or get rid of something that's barely had a chance to prove its worth. Instead, amplify the value of tech investments you've already made by applying robust integrations to your shopping cart and marketing automation tools. You can eliminate time-consuming manual work and get the data and insights you need to better understand your customers.
Analytics – get more data from your data
Do you know what might be hiding in your data? More customers. Taking a deep dive into some key ecommerce metrics and engagement data can reveal more people who are ready to buy. The more data-informed decisions you make, the more data you'll get – and all of that information provides more opportunity for growth.
Growth Services – go beyond your goals
Once you've got your data flowing, what's next? Increasing strength in key functional areas like customer lifecycle, email programs, reporting, and lead generation will reduce friction on your flywheel.
What's your data maturity score?
We've acquired a lot of on-the-ground experience with ecommerce technology. It informs how we work and ultimately led us to create the data maturity model. If you're in a "data-aware" state (not sure? Score yourself) and want to take steps to evolve into a data-influenced or data-driven organization, these are the tools that can help you achieve that result.
To understand more about the data maturity model, how to implement the ultimate ecommerce tech stack and how to build momentum in your e-commerce flywheel schedule an introductory call with us!
Get a Free Customer History Analysis!
Identify actionable differences in your ecommerce customer behavior to focus your marketing efforts.