Congratulations, you made a sale! Your customer received an order confirmation, which they loved. Guess what? You've only just begun.
Your customer wants to be informed, and up to date, so you should be ready to send a few more emails. Hopefully, you've included something in your order confirmation email that lets your customer know how many and what kind of emails to expect from your business. In this post, we'll dive into the different types, and the importance, of post transaction emails.
Shipping Confirmation + Tracking Information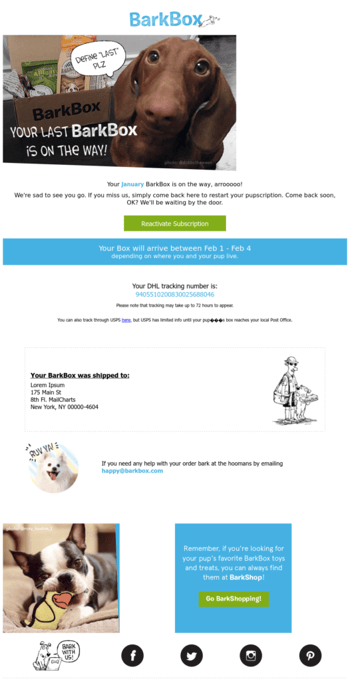 Like any other communication with consumers: get creative! BarkBox did a phenomenal job with the above shipping confirmation email example.
It captures BarkBox's unique, fun brand and relates it to the customer and that customer's purchase. It gives the customer the shipping information they need to track their order, and it also updates them about their purchase, in this case, a subscription. Informing the customer their plan will be ending soon unless they make a new purchase. It makes it easy for the customer to renew their subscription while being transparent and honest that BarkBox is asking them to reorder the service and continue being a customer.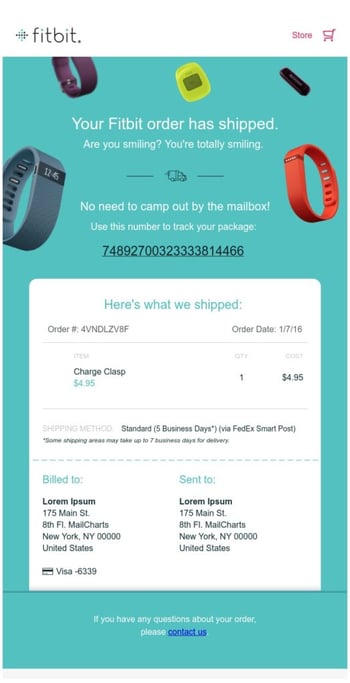 Fitbit's shipping confirmation email is straight to the point. It shared the tracking number for the package, what items were shipped, and the address for delivery. In addition to the critical information, Fitbit made the email stand out with a colorful background and product images.
Delivery Notification Email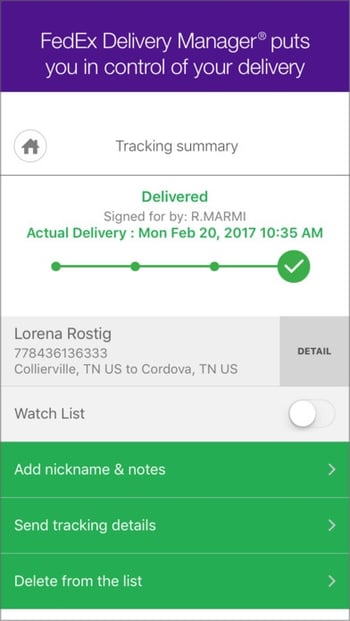 Delivery notification emails are a great form of added security, which gives the customer more confidence in your business. Ideally, this email will be branded (like GILT did in the email below) and sent from your business but sending it from a third-party (i.e., FedEx, UPS, etc.) can help authenticate the email.

Survey & Feedback Collection
We've discussed using forms in order confirmation emails, but any transactional email is a great opportunity to collect information from you customers. Whether in-email forms or linking to surveys, many companies request feedback or input from consumers after the customer has received the product(s) they purchased.
Kate Spade persuaded their customers to complete a survey by offering a 25% off discount code. The email is short, sweet, to the point and brings value to the customer via a discount offer.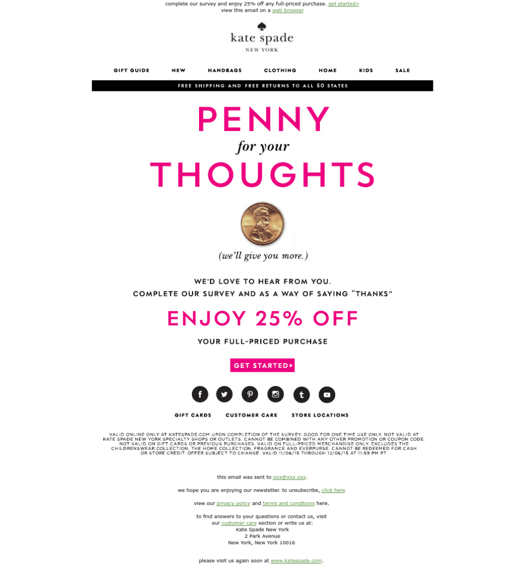 Sending the right post-transaction emails at the right time can be a critical factor in turning a one-time customer into a lifelong brand advocate. So, get creative and make these emails both fun and effective. Your customers want to be informed and entertained, so don't let them down!