Shopify is NOT a CRM tool with deal pipelines nor sales email automation, so here are 3 problems your sales team will have using Shopify Draft Orders and what you can do about it to close more sales.
Increasingly, businesses with traditional sales teams are turning to Shopify and other Ecommerce solutions to more quickly close sales, with more ease for the customer. Shopify has written a great article on B2B success in the Ecommerce industry, and many of these principles will also apply to any consumer products.
We've worked with many Shopify businesses with sales teams, and whether it's a custom jewelry shop, high-end mattress supplier, or B2B consumables business there are always difficulties to solve when a rep needs to email a Shopify Draft Order to finalize a purchase.
Major Problems for Sales Reps in Shopify
Creating Draft Orders is Shopify's primary method for allowing sales reps to create carts and email invoices to customers. When a sales rep is quoting an order over a phone call or even sending one out as an email reply, here's the top 3 problems sales teams will run into using the default Shopify email process for Draft Orders:
#1: The Invoice Email Engagement is NOT Logged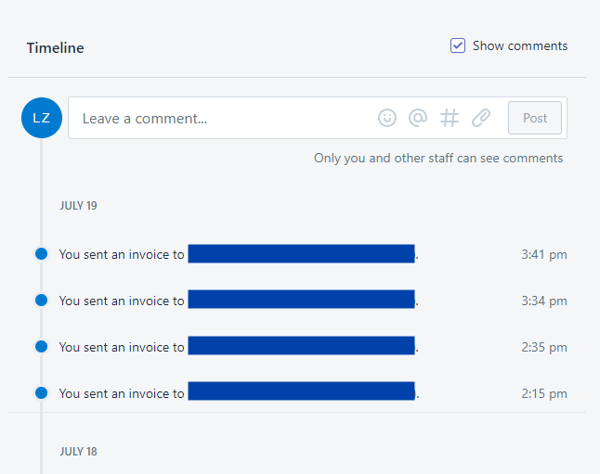 If you're using a CRM tool like HubSpot to log sales conversations and context about that shopper, sending the Draft Order email through Shopify leaves your sales rep with unanswerable questions:
"Did they even open the email?"
"Did they look at it more than once?"
"When did they last open it so I can follow up at a reasonable time?"
Currently Shopify has no way to see the email activity on individual Draft Order invoice emails, nor are sales from Draft Order tracked in Google Analytics.
Email opens are only tracked in Shopify mass-broadcast Marketing emails, and seeing Analytics revenue from Draft Orders requires a separate Shopify App like Quick Draft Orders or Better Reports.
Your rep might have CRM notes, email chains, and call logs of everything leading up to that point. But once your rep sends that Draft Order invoice, they're pretty much left in the dark without information they need to take action.
Sending an order invoice without tracking data is one of the worst situations a sales rep can put themselves in after spending days (or weeks) helping a prospect via email or phone to close the sale.
#2: Reps Waste Time When Switching Systems
A good CRM will create a unified record of all prospect correspondence and make it easy to see data no matter where they're at: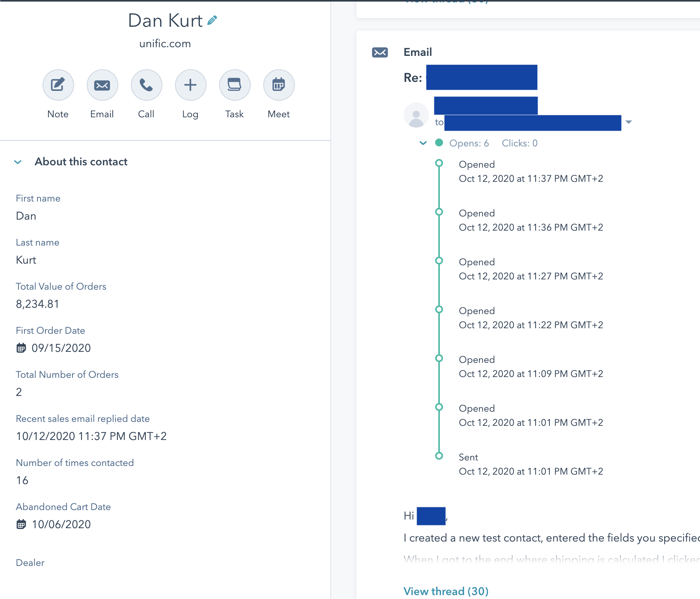 Shown above, HubSpot is an amazing CRM tool that allows reps to send emails from their native Gmail/Outlook tool, or they can send all emails, log notes, and make calls through HubSpot, itself.
When it comes time though for a sales rep to send the invoice, Shopify's Draft orders require them to leave their "home" of CRM and email and go into Shopify to build the order. It also requires them to go back to check on Draft Orders in Shopify and break the flow of their work.
This creates internal friction for creating quotes when it needs to be easy for a rep to present options for a prospect to buy, right now.
#3: Shopify Doesn't Send Email Reminders
A sales rep is busy, possibly managing between 20-100 leads at once.
Sending a simple reminder followup for Draft Orders like, "Hope you've been well. Did you have any questions about ordering?", with a link to the Draft Order is a critical step.
But this step too often gets missed when managing a healthy deal pipeline.
Below is an example HubSpot report showing how a sales rep can manage their reminder automation from a high-level: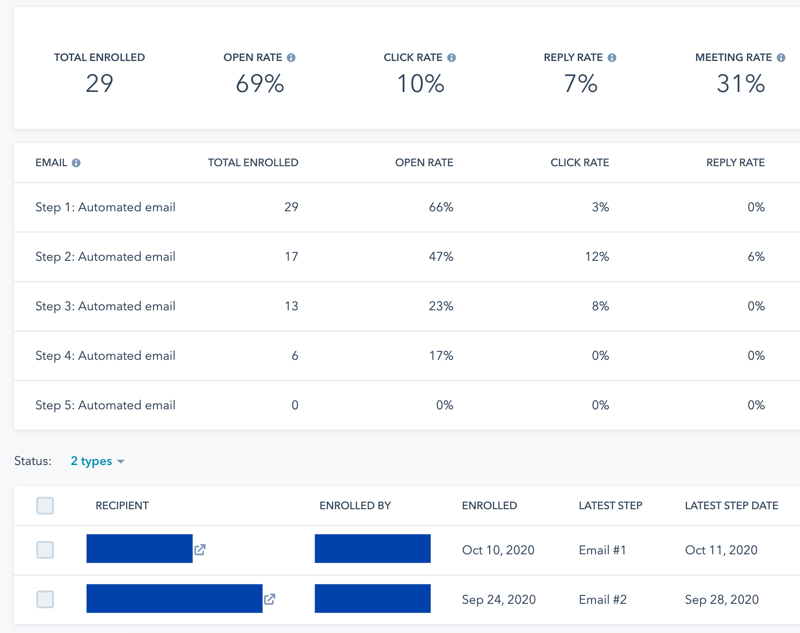 Shopify does NOT have any way to automate additional email followup beyond the initial invoice email. There's an app out there to remind the REP of outstanding draft orders, but this doesn't take work off the rep's plate by sending those reminders to the prospect on their behalf.
Two Easy Productivity Levers
We've built Quotific to solve these problems above and allow reps to generate and send Shopify Draft Orders without ever leaving HubSpot CRM. This allows you to pull two major productivity levers to boost sales:
Eliminate Lost Time of Tool-Switching: Keep all prospect correspondence in one place, inside the sales CRM
Automate Sales Followup Emails: Allows your rep to send the reminder messages they want without them having to remember to circle back or manage 50+ "to-do" tasks for followup
Try the FREE HubSpot CRM: Log Draft Order Emails Alongside All Emails
If you aren't already using HubSpot, you can open a free HubSpot portal in about 15 minutes to start testing out Quotific with your Shopify store.
At HubSpot's free level, a rep can see up to 200 alerts a month in their Gmail/Outlook inbox. On the contact record they can see their ENTIRE history of email opens, notes, and call logs for that contact.
HubSpot's Free CRM also permits up to 5 email templates, and you can re-create the Shopify Draft Order emails using the fields Quotific syncs into HubSpot Deals ("Deals" is HubSpot's term for an "Order Status").
Per our Quotific support articles, here's the 3 Draft Order-specific Deal properties we sync into HubSpot that you can use in Email templates:
Draft Order Id
Draft Order Name
Draft Order Invoice URL
Here's a screenshot of an example Sales email that can substitute the Shopify Invoice process: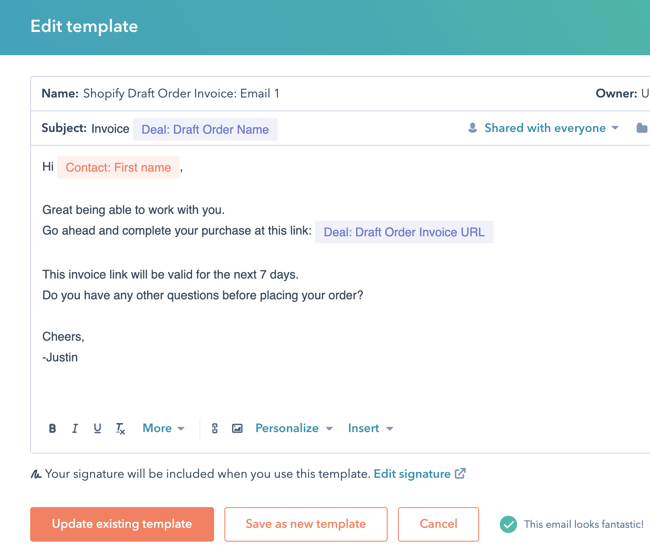 Using Quotific: Generating a Draft Order from the HubSpot Contact
We're continually working to make it as easy as possible to generate and send a Shopify Draft Order without the rep needing to leave HubSpot. Here's our full knowledge base article on how to use the tool, including this email that demonstrates the process:
At the end of the process, you will have a HubSpot Deal record with the mergeable properties needed to send followup emails within HubSpot:

Once you're sending these emails out of HubSpot you can see all open/click engagement data with that email, along with roll-up Contact properties and Deal properties that tell you more about how they're engaging with ALL of your rep's email and phone correspondence.
This includes properties like:
Number of sales activities
Number of times contacted
Last contacted
Recent sales email open date
Recent sales email replied date
Paid Sales Pro Plan: Save Time with Automatic Email Reminders
HubSpot enables Sales email automation at their Sales Professional plan, and if you don't already have it you can maximize the benefits of their Free plan to keep all correspondence in one place while you're deciding to commit to HubSpot Sales Professional.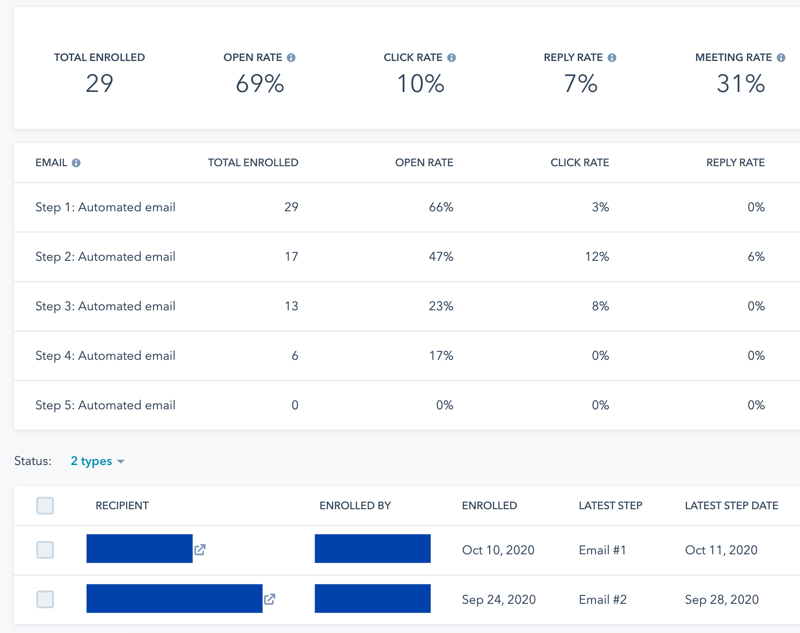 This is a great article that explains how much time a sales rep saves by automating their email followup. HubSpot Sequences allow you to pre-set all of the email copy that you'd send over a few days before you click "Send".
This means your reminder emails can include 1-2 sentences of specific context about the prospects' buying concerns, their goals with your product, and anything the rep has learned that would help their buying decision.
Increasing Sales Team Productivity
We've seen so much growth in B2B and consultative sales in Ecommerce, especially over the last 2 years, which is why we decided to build Quotific for Shopify. Draft Orders are a critical part of an inside sales team's process, as is making sure the rep maintains as much visibility and interaction with the customer as possible to grow your sales.
Create Shopify Draft Orders
Without Leaving HubSpot
Quotific makes it easy to create and send Shopify Draft Orders
without ever leaving HubSpot. Stop manually copying
information from HubSpot to Shopify, and start selling more with less effort.