One of the biggest hurdles eCommerce businesses have to jump over is having a plethora of one-time buyers making up the majority of their revenue. While this is great for short-term growth, in the long run many businesses struggle with converting these buyers into more valuable customers. That's where the 80/20 rule comes into play.
That's one of the issues faced by the company we're talking about in this blog post. They're a successful online business that sells a functional product for new mothers. They did great business in 2017 (between 1 and 3 million dollars), and they're also one of the 18 companies featured in our 80/20 report that showcases in detail 80/20 rule results. The thing that makes them particularly interesting is that because of the constraints of their product (there's only a limited time it's useful for mothers), they struggle with having lots of repeat buyers.
How can a business like this get more purchases out of the same customers?
First, let's talk about some of the assets they have. For one thing, while many companies featured in our 80/20 report have decent to good social media channels, this company has a PHENOMENAL instagram account. It's well-curated, eye-catching, and they have over 145,000 followers! This is a huge help to their business, and they do a good job of putting out promotions on this channel.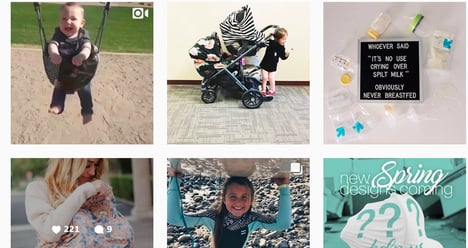 However, they're not taking advantage of it on their website. Right now, their website has three simple issues they could fix to improve sales:
Their Instagram is buried towards the bottom of the page
They don't run a pop-up offer on the front page
They don't sell you heavily into signing up for an account
The front page is mainly filled with validators--a video explaining the product, product reviews, product news coverage. They even have a tab that follows you all the way down on the right, where you can click once to go straight to reviews of the product.

Now, is any of this bad? Not really, and products pitched at new mom's generally require a bit more validation than other sorts of items. However, this shows why they should have the need for having both a front page offer, and putting the Instagram higher up on the page.
If they have an offer appear on this front page, they could set it to trigger when a customer scrolls past a certain point, or has been reading for a certain amount of time. They could vary the timing of these triggers, and see if they can narrow in on what piece of information on their homepage is the best converter towards someone buying their product--something that will be integral to increasing sales.
Meanwhile, by putting their instagram feed closer to the top, they may be able to help cut other validators needed to sell people on their product, particularly if new potential customers see actual satisfied moms using it earlier.
Additionally, we would recommend giving sales and discounts specifically towards mothers that take photos of themselves using their product and upload it to instagram. Not only does this give the company more validation that they can put on their homepage, but it also pushes repeat buys. A mother who uploads a photo of herself using the product could receive a discount for herself, or for buying an additional product for a friend who is about to become a new mom. By utilizing this system, you encourage repeat buying from one-time customers while also spreading out the network of people who know about your business.