The excitement of buying something is rarely accompanied by a thrilling confirmation document. I mean, really, when was the last time you were pumped to be handed a receipt or to open an email with a 12-digit confirmation number? Answer: never.
Luckily, when it comes to e-commerce, order confirmations don't have to be the same old boring receipts. So, in the post, we're going to talk about what you can do to make exciting order confirmation emails that will engage your customers!
Creativity Makes For Exciting Order Confirmation E-Mails
Banners & Backgrounds
If you're going to draw customer's attention with visual elements, you need to start from the top. The first thing your customer sees when they open an order confirmation email is the emails background and header design. Take a look at Dollar Shave Club's order confirmation email with a unique, attention-drawing background design.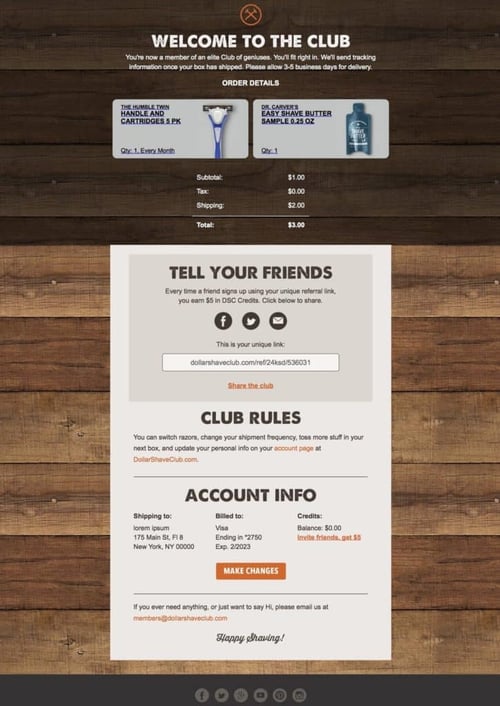 Dollar Shave Club's email does a great job of standing out, thanks to its wood board background. The rustic look was a perfect choice for two reasons: it helps draw the customer's attention, and it's perfectly on brand for Dollar Shave Club. DSC overlay's the unique background with a transparent header that brings focus to their logo and welcoming copy; again, perfectly on-brand.
Another example of strong branding and an attention-grabbing header is in this exciting order confirmation email from Wayfair.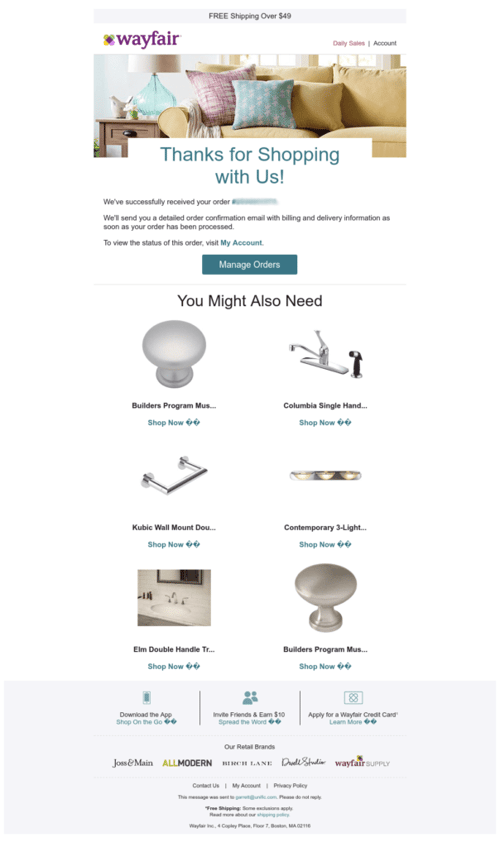 In addition to emphasized branding and custom background designs, order confirmation emails can incorporate visual elements that relate to seasonal or holiday events, motion-based media (GIFs, videos, etc.), hi-res photos, and more.
Copy & Content
Sometimes building excitement is as simple as a catchy line or two of copy! Ideally, it relates to the current transaction or customer's purchase history. Like this example from J Crew, it's a very small anecdote but it fits the brand voice, relates to J Crew's products, and engages the customer.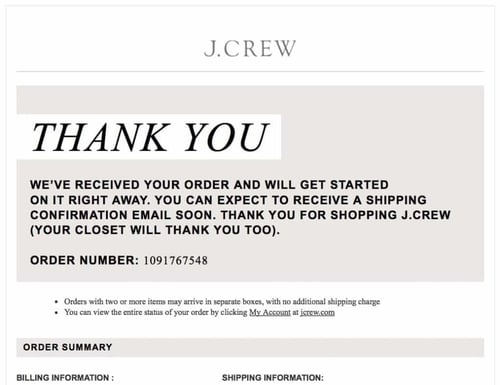 It's the small details that can make a difference. Just adding "(your closet will thank you too)" makes this email more memorable than a typical order confirmation email.
Another great example of building excitement is this email from Zulily.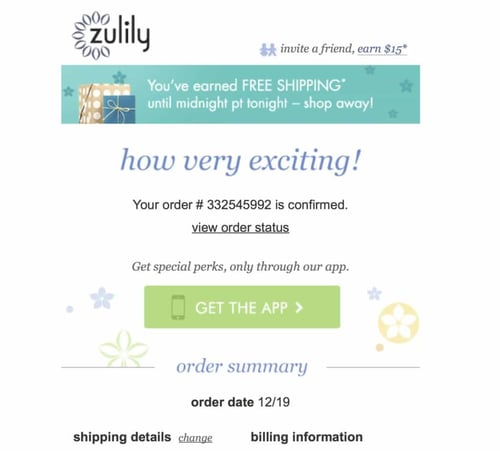 Sometimes you can build excitement by quite literally declaring something exciting, which is exactly what Zulily did with this order confirmation email.
You don't always have to relate your fun copy to the purchase, you can also build excitement in your receipt emails by drawing attention to other elements. You could include CTAs that draw the customer to news and announcements like sales or partnerships, new content like blog posts, or even offline events in which your business participates.
Targeting & Testing
The best way to excite your customers is to get creative! The best way to get creative? Try segmenting your emails messages and testing different media, different design elements, different copy (subjects, headlines, etc.), or anything! Personalize your messages and track the results to see what performs best.
Want to see more examples of order confirmation emails? Download our FREE e-book, Missed Connections, and see real order confirmation examples from the 10 largest online retails in the world!
Get a Free Customer Journey Analysis!
Identify actionable differences in your ecommerce customer behavior to focus your marketing efforts.