Every customer is different, but their purchases often help businesses identify groups or common characteristics among customers. It's precisely these identifiers that allow companies to use custom email segmentation for more targeted marketing messages. It starts by understanding what action(s) a customer can make, then how what that means for your business. Understanding these actions can help you decide how you'd like to segment your customers for targeted marketing messages.
Why Have A Custom Email Segmentation Strategy
In short, because it works. Segmented email messages get a 14.37% higher open rate and 64.78% more clicks than emails sent to non-targeted audiences. Engagement like that is always the best start in driving to more revenue from emails.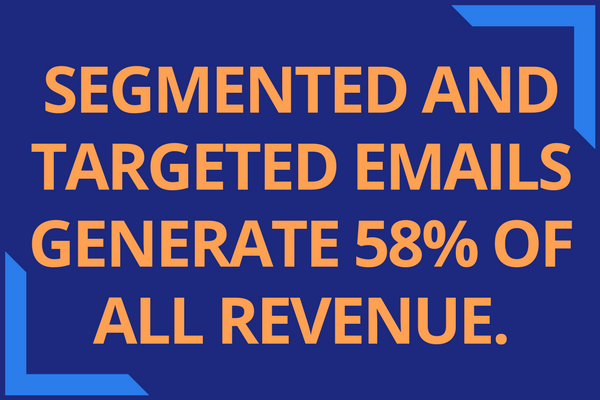 Clearly, sending segmented and targeted emails has advantages that result in more revenue for your business. So, let's discuss custom email segmentation strategy.
RFM Analysis For Custom Email Segmentation
Not all customers are created equal, and you can't effectively market the same to all of your customers. It's a fact that some customers are worth more to your business than others, so you need to be able to identify which buyers are your most valuable customers. RFM Segmentation is a common and useful way to segment customers by purchase behavior.
RFM stands for Recency (how recently your customer bought from you), Frequency (how many times your customer bought from you), and Monetary (how much your customer spent with you). RFM segmentation allows you to target who your most valuable customers are and helps you increase your customer's value by delivering the right message to the right person at the right time. Using RFM Segmentation method allows you to understand how you'd like to segment your customers.
Custom Segmentation: VIP Customers
Your most valuable customers are your most important customers! You want to keep them engaged and happy in hopes they continue to buy from you. An excellent application of custom email segmentation can be segmenting these VIP customers, by creating criteria to qualify buyers as VIP.
Criteria for VIP Customers could, for example, include: Average Total Price Per Order: Greater Than $100 + Total Number Of Orders: Greater Than 3 Orders + Average Days Between Orders: Less Than 100 Days.
Custom Segmentation: Products Purchased
Segmentation based on products can be a great way to increase repeat customers, cross-sell products, and more. A great example would be for a cosmetics/makeup brand; for this example, let's say the brand has a popular line of lipstick. That brand could use custom email segmentation to announce a new lipstick color to customers that have purchased multiple colors of that line of lipstick in the past. This email segmentation strategy could help increase sales of the new version of a product.
Custom Segmentation: Engaged On Site But Haven't Purchased
Wouldn't it be great if you could give customer's that have looked at products on your site multiple times but are yet to make another purchase a nudge of encouragement to make the buy? With customer email segmentation, you could send customer's that have viewed a product page more than 'X' times an email with a unique coupon for that person to use. If you're a Shopify store, their new Price Rule API allows you to create coupons that can be applied only to one item and can only be redeemed by the customer to which it was sent.
Endless Custom Email Segmentation Options
As you can imagine, the possibilities are nearly infinite when it comes to custom criteria for email segmentation strategy. It's best to consider your overall marketing plan and how segmenting customers can fit into the strategy. Examine the messages you promote when marketing and find the ideal groups of customers to receive each message. Or, start simple like segments based on amount spent or number of purchases made; over time, consider if a more advanced segmentation strategy will be beneficial.