We tend to talk a lot about broad-market businesses, but one of the things eCommerce allows is for niche products to thrive just as much.
That's why we're talking about this company from our 80/20 report. They are a fashion company that specializes in selling a functional fashion product for women and girls. Despite the fact that they are seasonal, and the product is aimed towards people with higher levels of income, they are doing incredibly well in their category. While they still have around 72% one-time customers, they're actively working on cultivating more loyal customers.
And one of the ways they do this is through their great social sales funnels.
As a blanket rule, if you're in a fashion category, you should have a strong social media presence on Instagram and Pinterest. This company has a strong social media presence across all platforms ( with the lone exception of twitter), but they are especially active on Instagram, where they've achieved over 86,000 followers.
This strong social presence plays into their sales funnels. For example, take a look at the initial offer the site gives you as you scroll through it: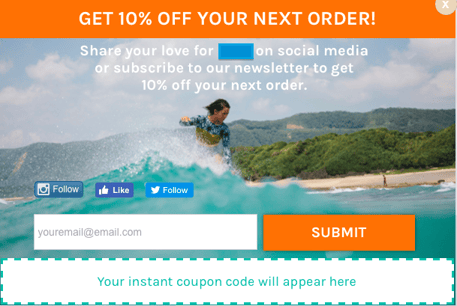 This is a great funnel, as it does multiple things for the company. While it obviously helps them push an initial sale, they also get the opportunity to grow their social presence, spread the word about their company, AND start email campaigns to any prospective customers who sign up. Bonus points for the fact that Instagram is the first social platform they allow you to share on. It's perfectly tailored to ensure that a prospective customers does at least one thing that helps your business grow.
This is a great example of how to create a sales funnel that accomplishes multiple goals for you, and is something worth copying for your business.
Another marketing tool they use rather well is their blog. They have a monthly blog that either speaks with an influencer in their market, or outlines a location that their customers would likely be interested in visiting.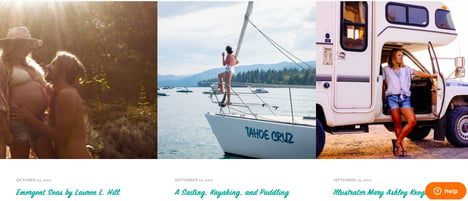 These are great for two reasons. The first is that the interview-style blogs give outside validation to their products by people their customers would care about, and the second is that the the other blog posts can give customers potential trip ideas so they can better engage with this brand's lifestyle. Both of these blog types push a customer towards a sale, either through validation, or by pushing a trip that would require their product.
Sure, it would be great if they could do more than one per month ( which tends to be what they stick to) but this is a great start to an additional channel for increasing customers sales.
If you want to learn more tips we would give in order to help them utilize these channels to generate more long-time customers, download our FREE 80/20 Analysis report for an in-depth look at not only this company, but 17 others. We dive deep on the numbers for each, and the strategies that are succeeding--or failing--to cultivate relationships with Top Customers.
No matter what your business is, you will learn about a company that matches your industry and situation, along with strategies to help ensure that you're targeting the best customers for your brand.
Click on the link below to download your report!