Recovering abandoned cart shoppers is vital to the success of any e-commerce store, every retailer should have campaigns in place. Recently, we shared best practices for abandoned cart recovery emails, but now it's time to see these strategies in action. We analyze 3 of the best cart abandonment email campaigns from online retailers and discuss what we can learn from each. We'll look at what other online retailers can learn from each example email.
About These Emails
In a recent experiment, we abandoned carts from over 75 of the world's largest e-commerce stores. Many of these retailers sent welcome email messages, newsletters, and other emails; this post will only examine abandoned cart recovery emails.
While no email is perfect, nor can we know the specific strategies these retailers used in these emails. For example, we can only make our best guess at what segmentation strategies were used or how recommended products were chosen, etc.
Nordstrom
Nordstrom, one of the largest online retailers in the world, does a great job with their cart abandonment emails. The recovery emails are on-brand, timely, and visually appealing to the shopper. As imagined, Nordstrom does a great job with product pictures, and these recovery emails rely on them for customer engagement and conversions.
Nordstrom's emails do a great job in many areas, but they particularly stand out for related products. Too often retailers have out of context or random items, but Nordstrom's product recommendations seem appropriate to the item(s) abandoned in the shopping cart. This likely is a result of segmentation based upon browse and cart abandonment history on site.
Additionally, Nordstrom refers to its site's shopping cart as the "Shopping Bag." While this may not have a direct effect on abandoned cart recovery, it does differentiate Nordstrom from many other online retailers. In the noisy world of e-commerce marketing, any chance to positively stand out from the crowd can be valuable.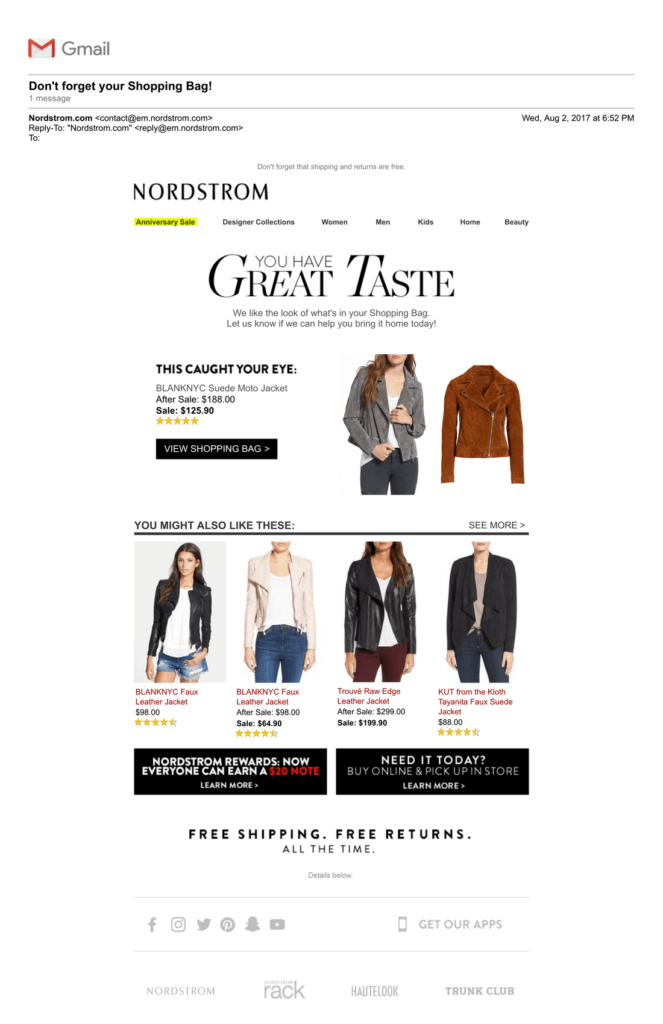 Abandoned Cart Email 1: Nordstrom
In Nordstrom's first email, Nordstrom draws customer with a headline complimenting the shopper's choice in style. Accompanying the CTA linking to the shopping bag is a product image on a model and a product image in another color. Also worth noting, under the headline Nordstrom says, "Let us know if we can help you bring it home today!" In the consumer's eye, Nordstrom is trying to appear interested in engaging with the shopper and willing to help them however possible.
Additionally, Nordstrom does a great job including related products and stands out by including product review ratings for each item. The 5-star rating system stands out visually and may entice consumers to click and learn more about the products.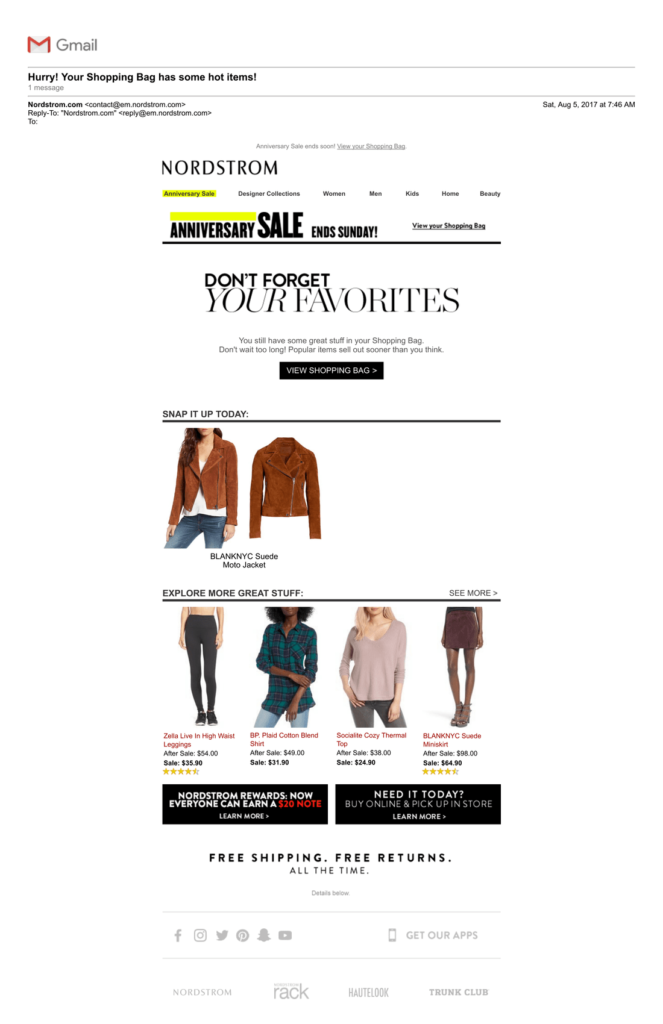 Abandoned Cart Email 2: Nordstrom
Nordstrom's second email, a sense of urgency is created, and it starts with the subject line. Nordstrom says the consumer's cart "has some hot items" hinting at the chance of items selling out of stock. Within the email, Nordstrom reiterated urgency with a sub-headline stating "Don't wait too long! Popular items sell out sooner than you think." The email then includes the same CTA from the first recovery email, one new product image and one that Nordstrom didn't include in the previous email, and four new product recommendations.
Below that, Nordstrom reminds shoppers of their generous free shipping and free returns policy. Frankly, Nordstrom could benefit from promoting this offer more prominently. In fact, 61% of shoppers are "somewhat likely" to cancel an order if a retailer doesn't offer free shipping. On top of that, 22% of US adults credit "hassle of return" as a primary reason for abandoning an online shopping cart. So, leading with this information or marketing free shipping and returns as a more exclusive offer could help convert some shoppers.
80sTees.com
80sTees was arguably my favorite choice for the best cart abandonment email campaign included in our experiment. The marketing person/team takes full advantage of its brand's fun, easy-going appeal in email design and copy. All three of the recovery emails match a similar design style and are packed full of lingo from the 80s. See how 80sTees gives more reasoning and value in each email to encourage timely shopping cart recovery.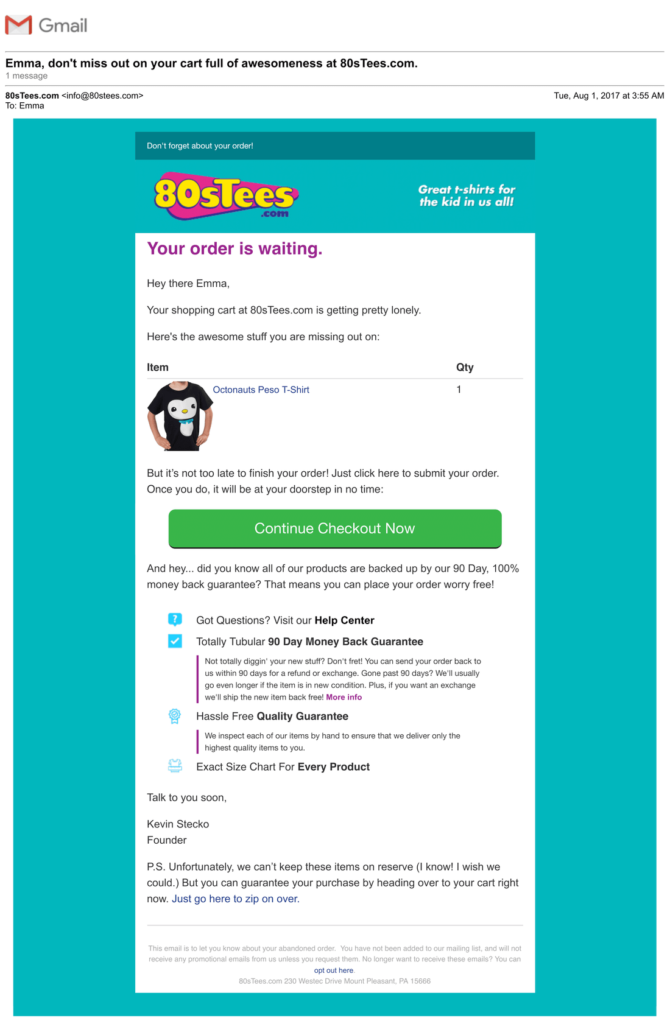 Abandoned Cart Email 1: 80Tees.com
80sTees does a great job from the very start, using the customer's name in the subject line. This subject line creates a more personal feeling for the shopper, increasing the chance for an open. Additionally, 80sTees uses a large and bright CTA to encourage conversion followed by a breakdown of how they add value beyond products. Multiple guarantees and resources encourage shoppers their purchase will live up to expectations.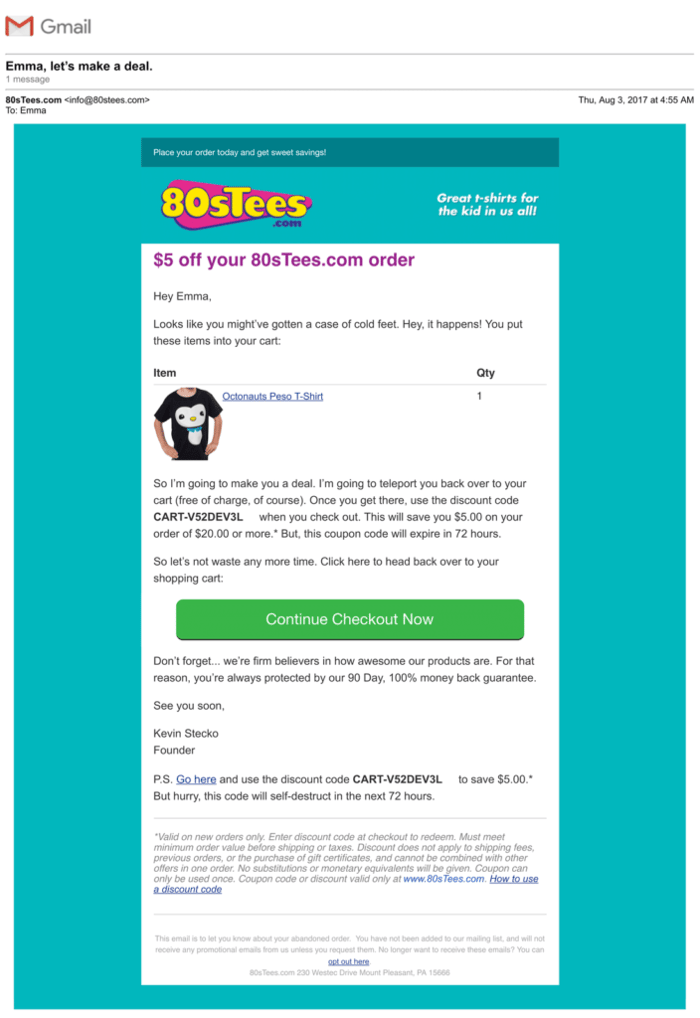 Abandoned Cart Email 2: 80Tees.com
In 80sTees second email, the subject line again includes the customer's name for personalization, but this time it hints at an offer. Upon opening the email, the first thing the reader sees in bright letters is a "$5 off your 80sTees.com order" offer. The email includes the discount code in two areas of the message and the same large CTA button from the first email remains.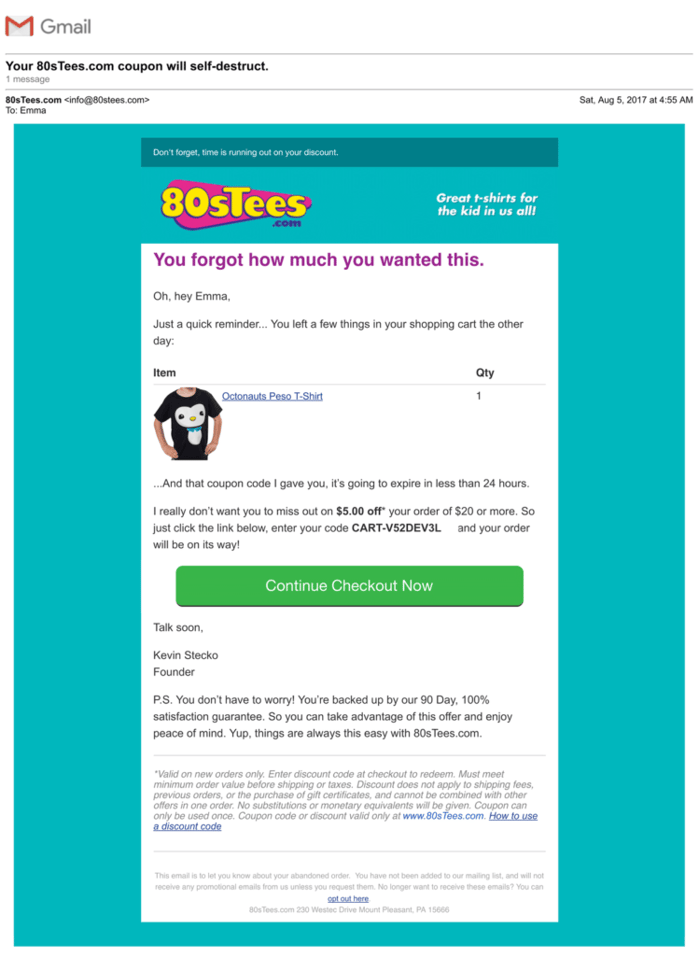 Abandoned Cart Email 3: 80Tees.com
80sTees.com's third email is the Hail Mary, telling the shopper this is the last chance to claim the offer and recover the shopping cart they abandoned. The subject line, the headline, and the email copy all encourage the shopper to check out now because it's the best deal and the cart will expire soon.
This email is a perfect example of the last push by an online retailer while respecting the consumer by not sending too many emails over an extended period.
Express
Express sent two emails focused on abandoned cart recovery, even though three is considered best practice. Regardless, Express still stands out as some of the best cart abandonment emails from our experiment.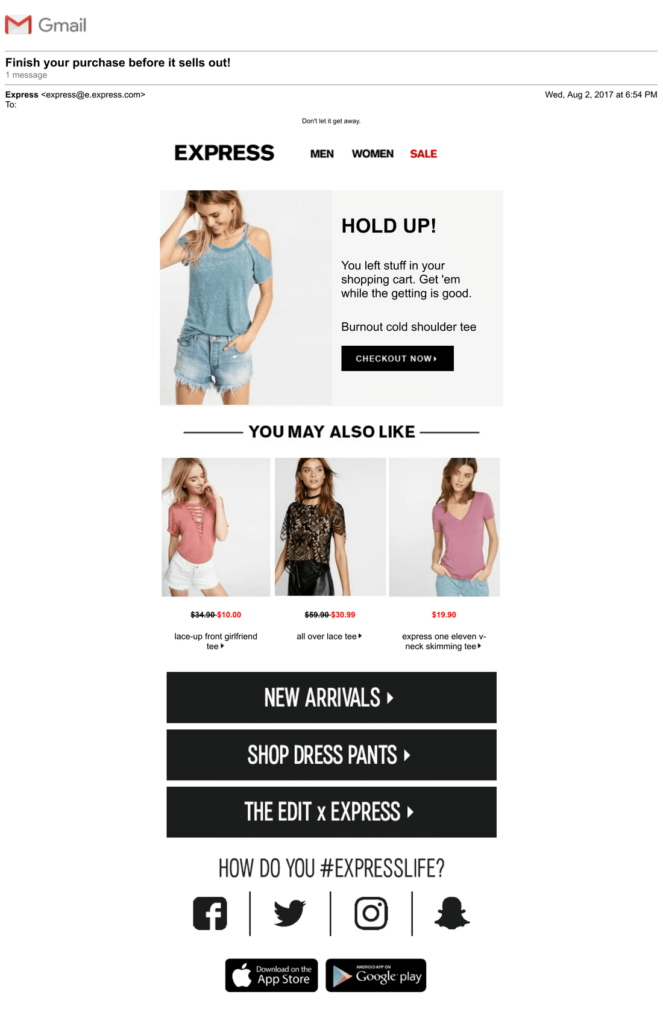 Abandoned Cart Email 1: Express
Express' first email didn't include a unique subject line to stand out but instead used the space to create urgency. Within the email, Express succeeds in drawing attention with large text saying "HOLD UP!" next to the product image. This email also uses copy that fits the brand's voice, casual phrases like "while the getting is good" help make the consumer feel more comfortable and relatable to the brand.
Another positive in this email, Express includes a clear CTA button for easy shopping cart recovery. Additionally, Express does a great job including related items. Including three similar shirts, all with marked-down prices could lead to shoppers purchasing additional or alternative items.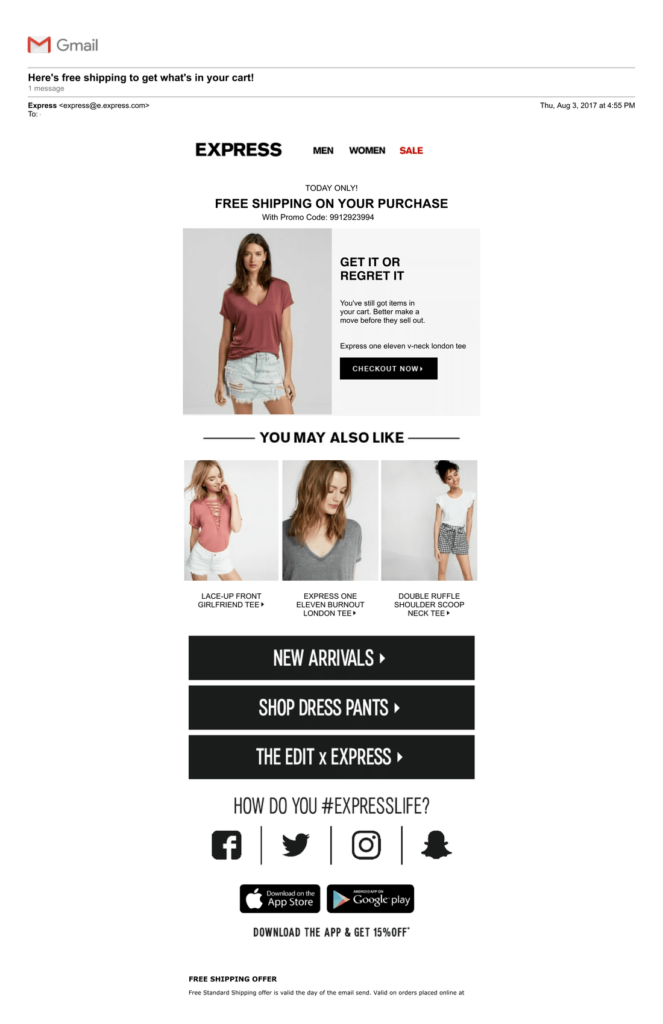 Abandoned Cart Email 2: Express
Express followed up a day later with an exclusive offer for free shipping on the shopping cart items. Again, Express used a strong CTA button for easy checkout and three related items. Express also included links to popular collections and the company's social media profiles, improving customer engagement beyond email.
Best Cart Abandonment Email Campaign Highlights
These three example campaigns significantly differ, but each does a great job. These differences further support that no one-size-fits-all strategy for the best cart abandonment email campaign exists.
Nordstrom's abandoned cart recovery emails highlighted product images and product suggestions, encouraging site visits and consumer engagement. All while building a sense of urgency for conversion, informing the shopper that items sell out and Nordstrom doesn't save shopping carts forever.
Meanwhile, 80sTees.com leveraged a strong brand by relying on a fun, relatable voice in copy and bright design for emails. 80sTees also did an excellent job in establishing contact with the shopper, building value and ensuring customer happiness before offering a coupon. This strategy is pivotal for small and mid-sized retailers to protect margins.
Express highlighted very similar items to what the consumer abandoned in the shopping cart and utilized a clean but appealing email layout. Express' design effectively highlights products by using majority black and white for everything else within the email. Express also tries to convert shoppers once before sending a time-sensitive offer for free shipping, another great strategy for creating urgency.
Of course, any retailer's email campaign can improve, but these examples are excellent starting points. These are some of the best cart abandonment email campaigns we found in our experiment, take these examples and apply learning to your recovery emails. Test and try new strategies, but be sure to follow abandoned cart email best practices and avoid common recovery mistakes for optimal recovery.