It's inevitable; shoppers will abandon their shopping cart before completing checkout. Every e-commerce store will fight a growing abandoned cart rate, the best businesses effectively leverage tools for abandoned cart recovery and increase revenue in the short and long term.
Abandoned cart recovery tactics can, and should, be highly customized. From content to timing, we discussed abandoned cart emails best practices, but now we'll look at some common mistakes to avoid for abandoned cart recovery emails. Retailers that avoid these mistakes can outperform the average open rate of abandoned cart emails of 48% and convert more than the average 33% of consumers that open cart abandonment emails.
First and foremost, online retailers need to be sending automated emails for abandoned cart recovery. According to a study by Litmus, just under 30% of retailers send cart abandonment emails. Surprising, because according to PowerRetail, shoppers that receive retargeted emails after abandoning a cart spend an average of 55% more.
If you're already sending cart abandonment recovery emails or if you're ready to implement an abandoned cart recovery strategy; be sure to avoid these mistakes!
Abandoned Cart Recovery Emails: Common Mistakes
1. Not Sending The Recovery Email Soon Enough
Timing is everything for any marketing message, and abandoned cart emails are no different. Best practice for abandoned cart emails is to send the recovery email within an hour of cart abandonment. Recovery emails sent after 24 hours of cart abandonment have an average conversion rate of 12.2%; far underperforming emails sent within 60 minutes, which average 20.3% conversion. Additionally, 72% of customers that completed a purchase after abandoning a shopping cart did so within 24 hours; 95% of shoppers that purchased after cart abandonment did so within two weeks following abandonment.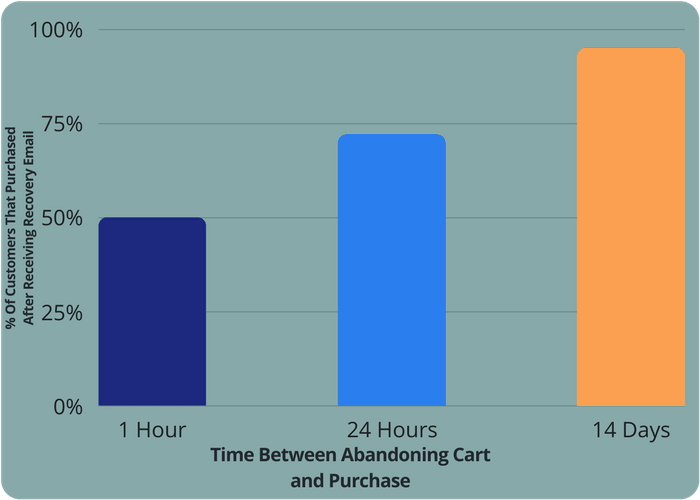 2. Not Sending The Right Amount of Emails
Of the 70+ online retailers included in our experiment of abandoned cart email subject lines, nearly 10% only sent a single recovery email and 4% sent zero emails to recover abandoned shopping carts. According to Smart Insights, recovery campaigns that send three emails convert 26% higher than campaigns sending one email.
No matter how many emails a retailer send, timing remains incredibly important. Research shows that 2nd emails sent between 24-48 hours of cart abandonment average 17.7% conversion versus emails sent 49+ hours after, which average 7.7% conversion. Optimal timing to send 3rd emails falls just after 72 hours, which average 18.2% conversion.
3. Not Using Frequency Capping Or Proper Campaign End Goals
Online shoppers are easily irritated by retailers flooding email inboxes; whether transactional or marketing emails, too many or irrelevant messages can hurt conversion rates. As previously mentioned, three emails for abandoned cart recovery is typically ideal, but it's important to ensure your campaign is set to cease sending emails after a customer has recovered their cart. Asking customers to check out for items they've just purchased can damage a brands reputation in the eyes of the shoppers.
4. Not Including Product Recommendations
Including product recommendations in abandoned cart recovery emails can increase conversions by 10% and click-through rates by 50%. Sometimes it helps the shopper decide they want more than their original shopping cart items or it can open their eyes to products that better fit their wants/needs.
5. Not Segmenting Messages Based On Historical Data
Online stores have a wealth of historical sales and customer data, which helps marketers find trends and behavioral cues. From RFM Segmentation to product/category association, retailers need to utilize all available information to customize email messages.
Test, Learn, Execute
Whether you're A/B testing subject lines or product photos, testing for optimization is key to a successful abandoned cart recovery campaign. Thanks to apps/software today, retailers can test CTA, copy, timing, coupon offer, personalization and more, for this reason, it's critical to test and apply results to future abandoned cart recovery email campaigns.
Above all, ensure your online store has an automated email campaign in place for abandoned shopping carts. Remember, shoppers are leaving an estimated $4.9 trillion in shopping carts each year! Recovering some of this revenue should be a huge priority for every online retailer.