Abandoned carts are a huge problem for online retailers. In fact, it is estimated that around $4 trillion worth of merchandise will be abandoned in shopping carts this year alone.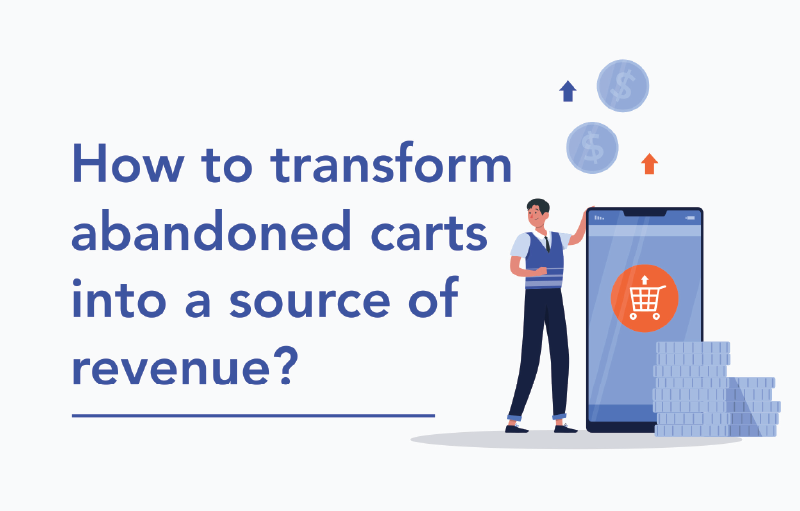 The average merchants recover less than 15% of their abandoned carts leaving a lot of money on the table, as merchants are spending time and resources acquiring customers that they're losing at an alarming rate.
In order to combat this issue, it's important for merchants to take a segmented approach to abandoned cart recovery. This means dividing their customers into different groups based on things like purchase history and how likely they are to purchase again; this will help them decide what value must be provided to increase the chances of a sale.
Is it a discount, a new product or does it have to do with brand loyalty? Let's take a look.
Data and segmentation
Segmentation is key to any successful abandoned cart strategy as it allows merchants to focus their efforts on those customers that are more likely to convert. It also helps increase the chances of recovering lost revenue from previous purchases. How to segment? Where to find these insights? They are all hiding inside your data and frameworks like customer cultivation can prove essential to understand them and turn them into actions.
Merchants should also look to increase customer engagement as part of their abandoned cart strategy. This can be done by using data-driven marketing efforts, like targeted emails and retargeting ads. Utilizing these tactics will help keep customers top of mind, which can result in more sales down the line.
Don't take our word for it, read our real-life case study.
This presents a major opportunity for businesses to recapture some of that lost revenue. In this case study, we will look at how one business was able to increase their recovery rate and engagement with segmented workflows using customer cultivation concepts.
The first steps: June 2021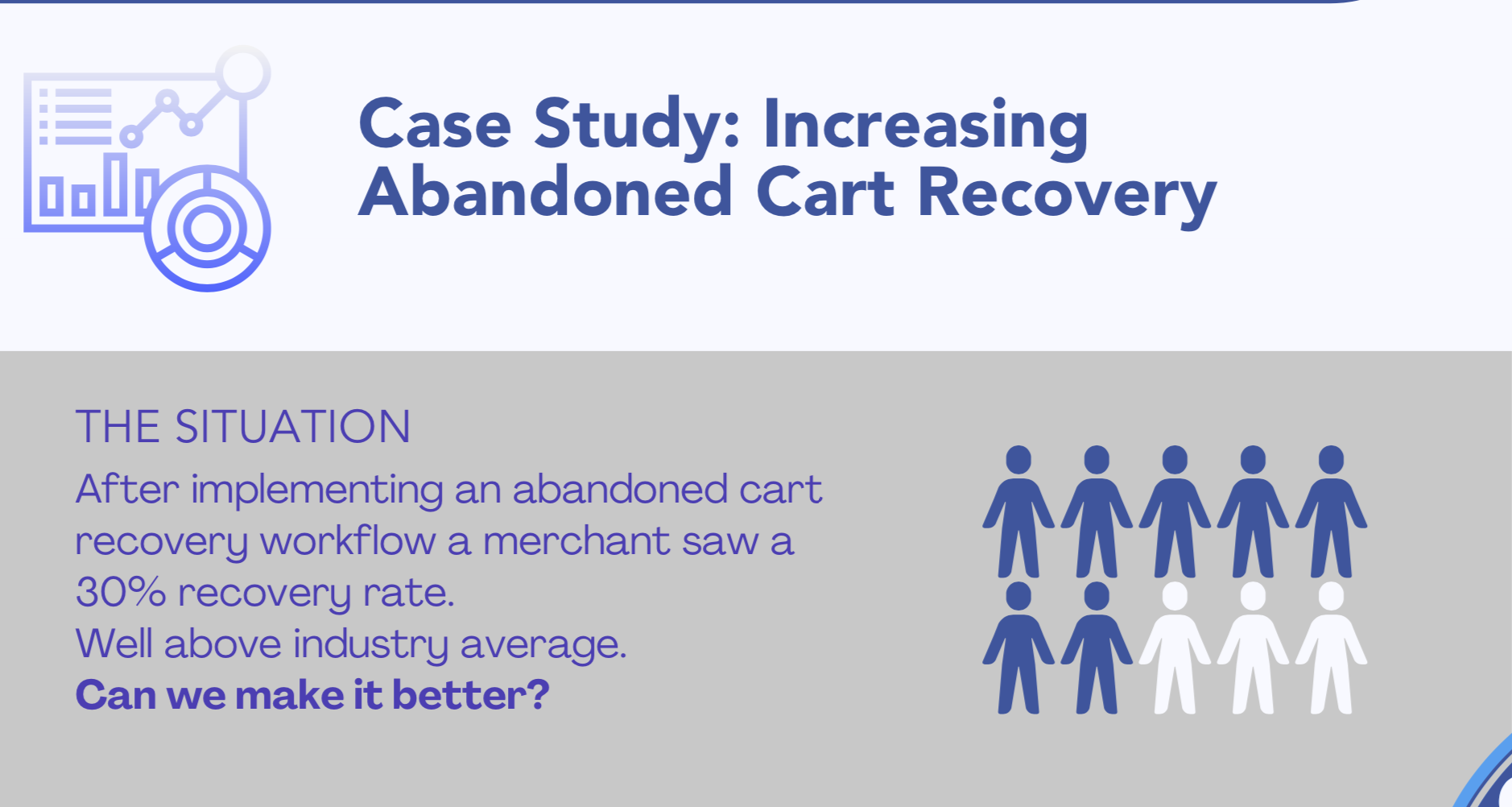 The business in question is a major retailer that operates in the e-commerce space. They had been struggling with abandoned carts for some time, and were looking for a way to increase their recovery rate. In order to do this, the very first step was to set up an abandoned cart recovery workflow that targeted carts as soon as 15 minutes after they abandoned while providing a 10% discount as an offer. Slowly but surely, an increase in recovery was seen and after a few months it plateaued at around 26%, well above industry average but still leaving a big chunk of business on the table. What is the next step?
Segmentation and a data driven approach
We approached them with one clear idea, we decided to segment their customers into different categories based on their profitability and the time they had been customers for. This allowed them to focus their efforts on the most profitable and high-value customers in order to deliver personalized value to each segment. In addition, we set up a series of automated workflows that would target these segments with specific messages and offers in an attempt to recapture their business.
Data is at the center of this case study as the segments themselves were built using specific store data based on the RFM (Recency, Frequency and Monetary) principle. In addition, the offers and messages that were delivered to each segment were also personalized using data, analyzing client history and industry wide metrics regarding discounts and recovery rates. The use of data-driven marketing efforts is key to any successful abandoned cart strategy.
How are you and your business using your data? Step one is visualization. You need to see what is happening in your business and understand the story that the data is telling. You can then use this understanding to make better decisions about where you should focus your efforts. From there, it's important to start tracking how different marketing efforts are impacting your business so you can continue improving over time.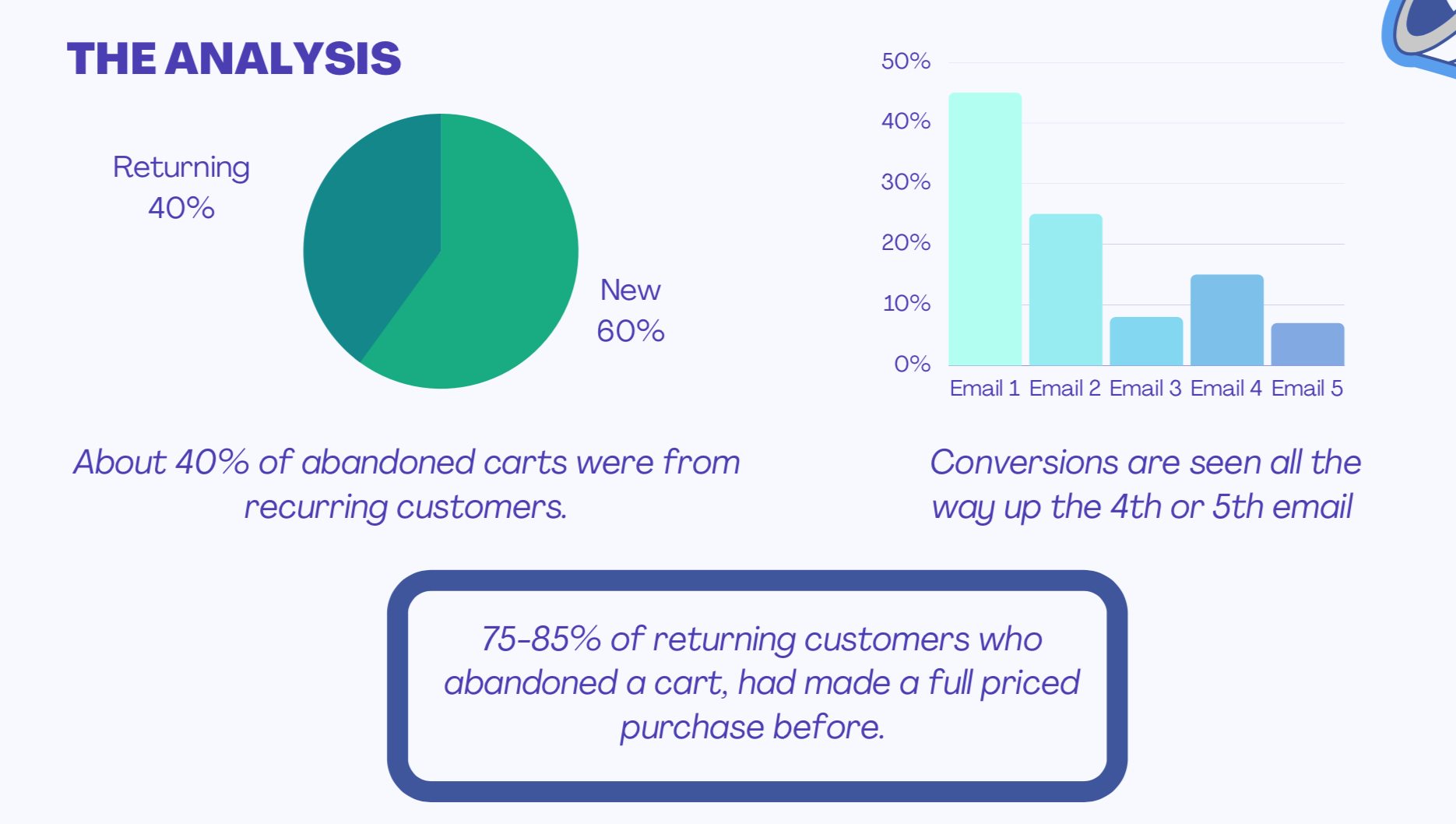 If you're not using data to make decisions about your abandoned cart strategy, you're leaving a lot of money on the table. Are you ready to start recovering those lost profits? Many merchants approach abandoned carts as part of their day to day but they represent a significant loss of money as millions are spent in acquisition efforts for customers that won't convert fully. These customers, often referred to as "abandoners", have added products to their cart and then left the site without completing the purchase. Merchants lose an average of $58 per abandoned cart, according to a study by Baymard Institute. This number is especially staggering when you consider that the average shopping cart abandonment rate is 68%, meaning two-thirds of customers are leaving without completing a purchase. This leaves merchants with a lot of work to do in order to bring those lost customers back, and it's no small feat.
The AMAZING results

The results of this approach have been nothing short of amazing. The business has seen a significant increase in their recovery rate, with a specific segment seeing as high as a 15% increase without any discount being offered! This translates into the merchant saving money, optimizing acquisition spend, increasing ALV of a segment of customers and increasing engagement in otherwise lost customer. In addition, they have also seen an increase in engagement from new customers, with many taking advantage of the offers that were presented to them and reaching a 30% recovery rate.
This case study showcases the importance of segmenting customers and using data-driven marketing efforts to increase recovery and engagement. It also highlights the effectiveness of customer cultivation concepts in achieving these goals. By taking a data-driven, segmented approach, businesses can increase their chances of recapturing lost revenue and increasing engagement with their customers.
See what our merchant has to say in this video!