Deep, Reliable Integration between your Shopping Cart & HubSpot for Ecommerce Marketing
Get started free (no credit card required)
Cancel any time
Easy automated setup with 245 fields, 16 lists, 5 workflows
22.5 Million
Orders Synced
$5.5 Billion
Gross Merchandise Value
42 Million
Abandoned Carts Synced
One marketing platform.
Multiple cart options.
Our HubSpot eCommerce integrations allow you to connect HubSpot with many industry-leading shopping carts for immediate results.
Market faster with pre-mapped properties.
Save valuable time with our ecommerce to HubSpot property mapping setup. It's based on industry best practices and our in-depth HubSpot eCommerce experience.
Ecommerce Marketing Essentials Included
Reach the right people at the right time.
Use pre-built lists and workflows to target customers by behavior and automate marketing messages, confirmations, coupons, and more.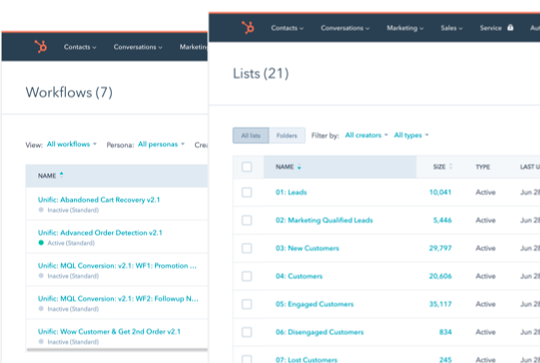 Expert guidance from the beginning.
In addition to pre-built fields, lists, and workflows, we can provide step-by-step training and onboarding, as well as deep customer insights.
Data → Insights → Actions → Growth
What will you do with your Data?
Your Ecommerce business generates information every second, but it can be difficult to act on that data without a connection between HubSpot and your shopping cart. That's where Unific comes in. Our HubSpot Ecommerce integration bridges the gap between HubSpot and your shopping cart, providing insights that you can act upon through powerful marketing automation capabilities.

The best part is that it's all automatic. When you connect HubSpot with your shopping cart through Unific, everything you need to get going is created for you. Custom properties for capturing data, smart lists that segment customers by buying behavior, and workflows that automate important functions. It's all part of your HubSpot Ecommerce subscription.
Ready to get started?
Start now for free with our easy setup process. Sync contacts, orders and abandoned carts in minutes.
This site is protected by reCAPTCHA & the Google Privacy Policy & Terms apply.
No credit card required | Cancel anytime
Already have an account?
Log in