HubSpot with Unific - A Perfect Fit for eCommerce
A HubSpot eCommerce integration allows you to use the data you already have in your shopping cart system to create, target, launch, automate, and monitor campaigns designed to maximize growth.
Free forever
Cancel any time
Easy automated setup with 245 fields, 16 lists, 5 workflows
With Unific, these businesses get more out of their data:


What will you do with your Data?
Your Ecommerce business generates information every second, but it can be difficult to act on that data without a connection between HubSpot and your shopping cart. That's where Unific comes in. Our HubSpot Ecommerce integration bridges the gap between HubSpot and your shopping cart, providing insights that you can act upon through powerful marketing automation capabilities.

The best part is that it's all automatic. When you connect HubSpot with your shopping cart through Unific, everything you need to get going is created for you. Custom properties for capturing data, smart lists that segment customers by buying behavior, and workflows that automate important functions. It's all part of your HubSpot Ecommerce subscription.
Market faster with pre-mapped properties.
Save valuable time with our ecommerce to HubSpot property mapping setup. It's based on industry best practices and our in-depth HubSpot eCommerce experience.
Reach the right people at the right time.
Use pre-built lists and workflows to target customers by behavior and automate marketing messages, confirmations, coupons, and more.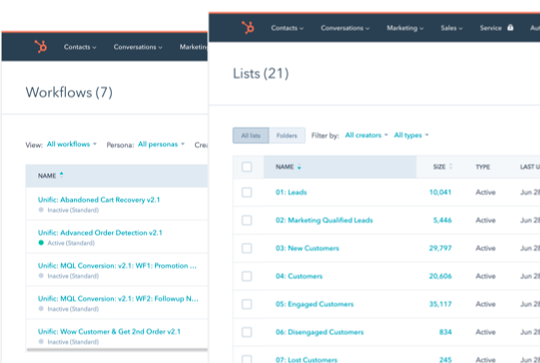 We're creating success stories worldwide.
Learn how our integration between HubSpot and eCommerce shopping cart systems has helped businesses across the world achieve real growth.

Expert guidance from the beginning.
In addition to pre-built fields, lists, and workflows, we can provide step-by-step training and onboarding, as well as deep customer insights.
Get the Best Start Possible
One marketing platform.
Multiple cart options.
Our HubSpot eCommerce integrations allow you to connect HubSpot with many industry-leading shopping carts for immediate results.
Get your Free Forever Plan
With the free forever plan, you get an unlimited number of contact syncs completely free.
This site is protected by reCAPTCHA & the Google Privacy Policy & Terms apply.
Free forever
Cancel any time
Easy automated setup
Already have an account?
Log in