80/20 RFM Analysis Overview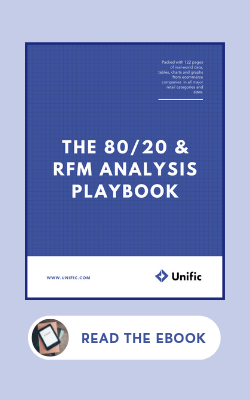 For ecommerce, the 80/20 rule is simple: 80% of your business comes from 20% of your customers.

Who are these valuable customers? How can you find them? What can you learn about them when you do? That's where the 80/20 RFM analysis comes in. RFM stands for Recency, Frequency, and Monetary — the three metrics used to determine a customer's lifetime value. Our 80/20 RFM analysis explores these three metrics in your existing customer base.
Want to learn more? Check out our article titled "A Primer for Growing Ecommerce Using the 80/20 Rule & RFM Segmentation" and download The 80/20 & RFM Analysis Playbook.