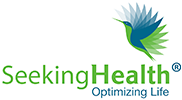 Seeking Health
Industry: Supplements
Location: Bellingham, WA
Website: www.seekinghealth.com
Shopping Cart: Magento
Customer Reengagement Campaigns
and a New Lead Capture,
Nurture & Conversion Campaign
$123K in new revenue in the first 6 months
Despite a growing online store, Seeking Health knew they could be doing more. Prior to signing up for Infusionsoft, Seeking Health was using Mailchimp to "batch and blast" the same message to all subscribers. Plus, growing sales masked the fact that many customers were not buying a second or third time.
Seeking Health signed up for Infusionsoft and Revenue Conduit, and worked with Revenue Conduit to begin implementing the Attract, Convert and Retain Marketing System. As a first step, Revenue Conduit imported all of Seeking Health's historical customers, orders and products into Infusionsoft. During the import process, the Revenue Conduit application calculated for each customer the following metrics:
Total Order Value
Average Order Value
Total Number of Orders
First Order Date
First Order Value
Last Order Date
Last Order Value
Average Days Between Orders
After importing all of Seeking Health's historical data, we performed an 80/20 analysis. Among other findings, we revealed that 85% of the customer base has only bought once!
Based on the 80/20 analysis, we built a Reengagement Campaign that focused on all customers that had only bought once. The campaign included three segments based on the data of last order.
In addition to the Reengagement Campaign, we also launched a Lead Capture, Nurture & Conversion Campaign.
Within a week and a half, the Reengagement Campaign drove more than $30,000 in new revenue. In the first six months, the New Lead Capture, Nurture & Conversion campaign has driven $57,000 in revenue.

Further, an additional Reengagement Campaign was recently launched. It drove an additional $36,000 in revenue.
Ready to get started?
Start now for free with our easy setup process. Sync contacts, orders and abandoned carts in minutes.
This site is protected by reCAPTCHA & the Google Privacy Policy & Terms apply.
No credit card required | Cancel anytime
Already have an account? Log in